Australia
Why Martin Tyler doesn't call Australia the Socceroos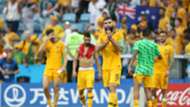 Commentators don't come much better than Martin Tyler and the legendary Englishman has revealed that he refuses to call the Australian football team the Socceroos.
Part of SBS's 2018 World Cup team calling the action in Russia, Tyler wasn't assigned to the green and gold's games with Aussies David Basheer and Craig Moore selected instead.
It could well have been for the best too, with Tyler admitting he's not a fan of the Socceroos name, adamant simply Australia should be good enough. 
"I don't call them the Socceroos," Tyler told Santo, Sam and Ed's Cup Fever podcast. 
"I always call them Australia because Australia is a sporting brand and I'm not overly fussed by the nickname - I think it changes the brand a bit.
"You're Australia, be proud of it, you should be. You are a wonderful sporting country.
"For me the team that got knocked out were Australia." 
The name Socceroos is believed to have originated back in 1967 by journalist Tony Horstead while covering the side in Vietnam, before it was fully embraced by the national team in the years to follow.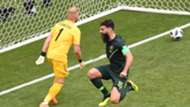 Though not a fan of their nickname, Tyler has been keeping a close eye on Australia over the years and believes they've been relatively successful despite domestic league struggles. 
"I think in the circumstances they do pretty well," he said. 
"You keep producing players that are going to Europe. 
"The fact is the country doesn't seem to be big enough to sustain a league to keep the players there.
"Which would be the next step forward and I know that's been the attempt of the A-League but because it's not 'the' sport then it can't actually stick in."
To find this and other stories about the beatiful game Down Under head to Australian Football on Facebook.