NPFL
Why Kano Pillars lost to Kwara United - Ibrahim Musa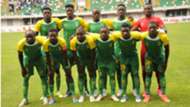 Coach Ibrahim Musa says the unavailability of their regular defenders has affected Kano Pillars this season.
The four-time Nigerian league champions were unbeaten in nine straight matches this season before their 2-0 defeat at Yobe Desert Stars three weeks ago.
And they are currently struggling without the defensive trio of Stephen Eze who has moved abroad, injured Emmanuel Anyanwu and late Chinedu Udoji who recently passed away.
On Sunday, the Sai Madu Gida Boys gained the lead courtesy of Junior Lokosa's first-half strike but second-half efforts of Sunday Okechukwu and Lukman Binuyo handed the hosts the victory.
Having suffered their second defeat in three matches in a row, the gaffer is concerned after his side's defensive frailties were exposed by Abubakar Bala's men but he is confident they will cope.
"I think we played better than we did in our previous two games despite we lost to Kwara United," Musa told Goal.
"We played very well in the first half and scored first but in the second half, we didn't do enough to defend our goal. We should not have lost the match if not for our defensive mistakes.
"Kwara United are very good side and they scored their two goals in the second half. They played like a very desperate side because of their position.
"Our central defence is where we are having a serious problem. We are really missing our key central defenders.
"We don't have our best players in that position. Like [Stephen] Eze has gone [abroad], [Emmanuel] Anyanwu, who is injured and we lost [Chinedu] Udoji to the cold hand of death recently.
"It has been tough for us but I really can't blame those we are using now. They are really trying their best.
"We will continue to manage the situation and I am confident that we will cope and do well in our upcoming games."