Who is Marcus Thuram? The son of France legend Lilian is Europe's best dribbler this season
Last Updated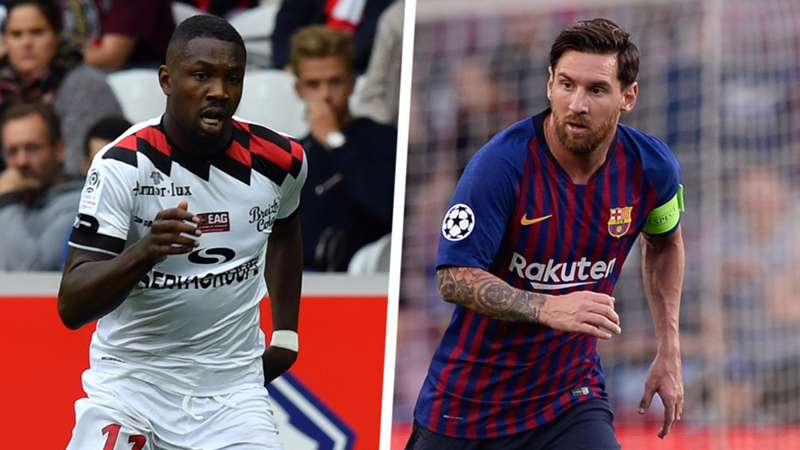 Getty/Goal
Lilian Thuram was a lot of things: one of the finest right-backs of all-time, France's most-capped player, an activist off the field and a World Cup winner on it.
What he was not - and he would be the first to admit this – was a fleet-footed, direct runner who felt entirely comfortable with the ball between his feet bursting at opposition defences.
Yes, he was capable of cutting inside from the flank and producing the odd spectacular strike (see World Cup semi-final versus Croatia in 1998), but that was not what his game was about.
Somewhere along the line, though, it is those creative qualities in the final third which have been passed from one generation of Thurams to the next.
That should perhaps come as no surprise in an era which is seeing the offspring of several famous faces following in the footsteps of some rather illustrious father figures.
Justin Kluivert is now at Roma and being backed to tread the same path as dad Patrick to Barcelona, while Timothy Weah is showing the kind of promise at Paris Saint-Germain which could one day see him occupy a similar global standing to AC Milan legend George.
It is, however, elsewhere in Ligue 1 that Thuram Junior is making his mark.
Marcus Thuram has been a regular on a senior stage for some years now, with a man born in Italy during Lilian's time at Parma looking to flourish in the more natural surrounds of French football.
It could be that he passes the 100-appearance mark at club level this season, with a second campaign having been opened at Guingamp – with a debut stint among the elite having delivered 34 appearances following a switch from Sochaux.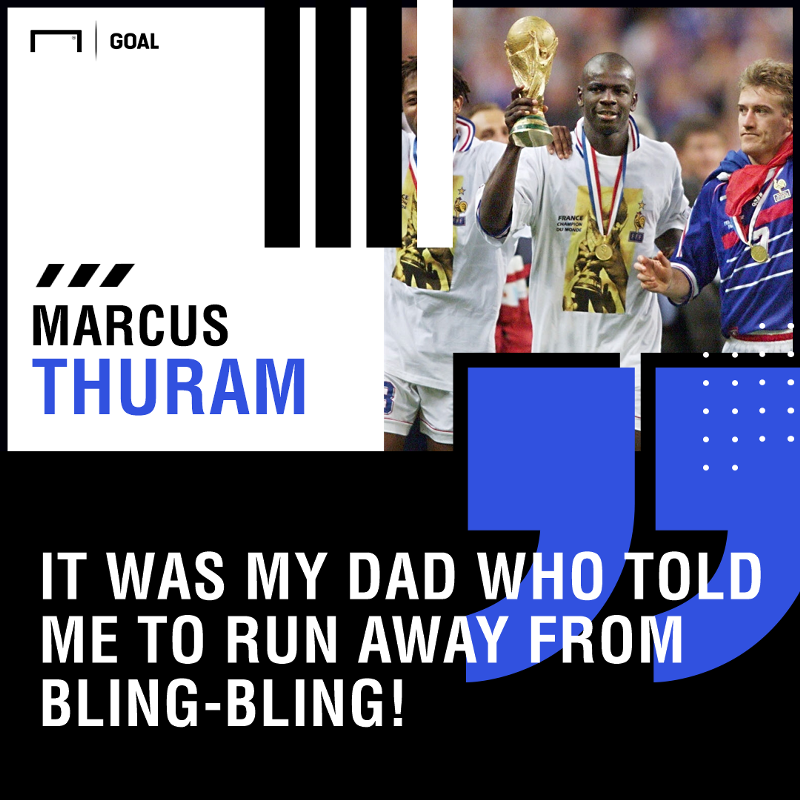 Thuram is happy to be moving slowly through the gears , with the bright lights surrounding Kluivert and Weah having largely been avoided up until this point.
"It was my dad who told me to run away from the bling-bling!" he told L'Equipe on his decision to link up with Sochaux at the age of 15, with there no desire on his part to use his surname as a bargaining chip in search of a grander stage.
A more considered approach to career development has delivered rich rewards.
He may not be chasing down major honours like his father did at Monaco, Parma, Juventus and Barcelona, but there is plenty of time for that.
Thuram is seeing regular minutes, which are a priceless commodity at this stage of his career, and has already represented France at every youth level up to U20 – with there the promise that a first senior outing could arrive at some stage as he seeks to eat away at his dad's 142-cap haul.
Forcing his way into a World Cup-winning side will be no easy task, particularly when the abundance of attacking riches available to Les Bleus is taken into account.
He has, however, opened his goal account for the current campaign and taken in a memorable outing against legendary Italian goalkeeper Gianluigi Buffon – with the 40-year-old PSG star a former Parma colleague of his father.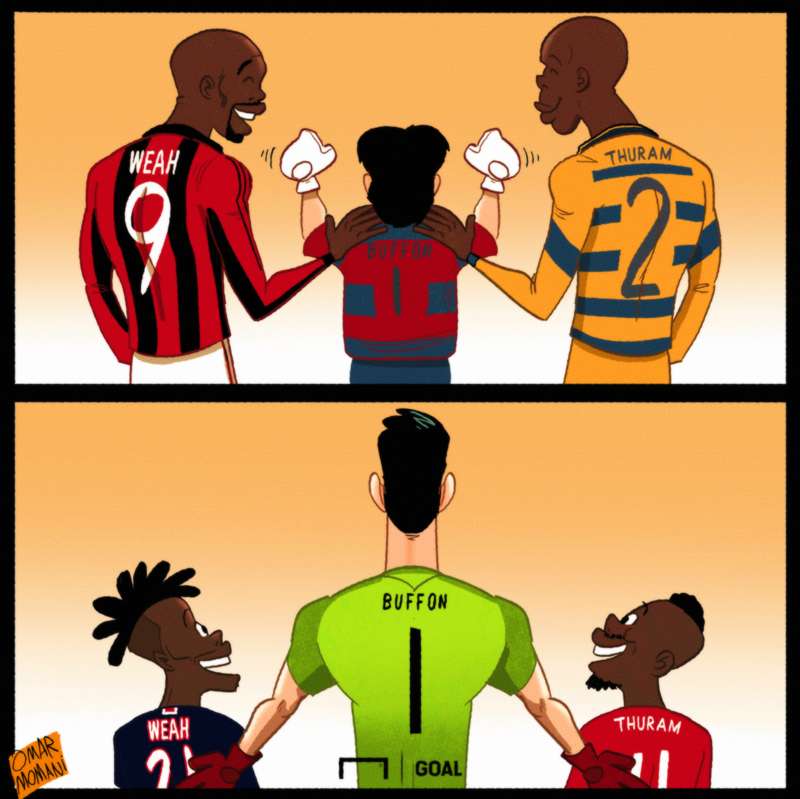 Thomas Tuchel told reporters after that contest: "Ligue 1 is a very tough championship physically, with very strong players, like Guingamp's Marcus Thuram, who runs fast, is strong, dribbles well and is good in the air."
Thuram feels perfectly at home in his current company, with every obstacle put in front of him having been cleared by a considerable stride.
He has said: "If I go into a stadium where people don't like me, it makes me want to do more. When the fans insult me, it excites me. Given my name, it's normal I'm a target. I wear it proudly and I don't feel pressure because of it."
There has certainly been no sign of nerves this season.
Thuram, having taken the decision to go chasing goals rather than focus his attention on keeping them out, is showing himself to be one of the most eye-catching performers in European football.
Fans want to worship players that can get them off their seat, and Guingamp appear to have found a man capable of doing just that.
Through the opening month or so of the 2018-19 campaign, no player across Europe's top five leagues has completed more dribbles than Thuram – not Lionel Messi, not Eden Hazard, not Neymar, not anybody.
| Player | Dribbles completed | Attempted | Success % |
| --- | --- | --- | --- |
| Marcus Thuram | 24 | 37 | 64.86 |
| Lionel Messi | 23 | 32 | 71.88 |
| Allan Saint-Maximin | 22 | 53 | 41.51 |
| Eden Hazard | 20 | 37 | 54.05 |
| Max Gradel | 17 | 40 | 42.5 |
| Naim Sliti | 16 | 29 | 55.17 |
| Adama Traore | 16 | 21 | 76.19 |
| Jeff Reine-Adelaide | 15 | 31 | 48.39 |
| Ibrahim Sangare | 15 | 20 | 75 |
| Neymar | 14 | 27 | 51.85 |
He is currently attempting just over six adventurous slaloms per outing, with four of those taking him to his desired destination or providing a team-mate with the chance to take over and build on his impressive groundwork.
To be outshining global superstars in such stakes is mightily impressive, but again should not come as a massive shock.
Back when he was a starry-eyed youngster following his father to training at Barcelona, Thuram inherited a pair of boots from a rather special someone.
He told this tale to AFP : "I was carefree at the time, probably about 10, and he was 20. His boots were too small for me, so I gave them to a friend. He must have them!"
Who was he talking about?
None other than five-time Ballon d'Or winner and record-breaker extraordinaire, Senor Messi.
He may not have been able to fill those boots, as he quickly grew to tower over a diminutive Argentine, but he is showing himself to be worthy of them and continues to make his dad proud.
And if he can maintain his current upward career curve, then Thuram part II promises to end up being just as exciting as the original.