MLS
Who is Josef Martinez? The Venezuelan striker who broke the MLS scoring record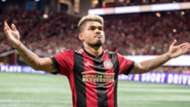 Josef Martinez has broken the Major League Soccer record for goals in a season, a record that had stood unbroken for 22 seasons. During that span the league has had several high-profile strikers pass through, such as Thierry Henry, Didier Drogba, Robbie Keane and most recently Zlatan Ibrahimovic. None of them ever put together a goal-scoring season in MLS like Martinez has managed in his second year in the league.
How has the 25-year-old Venezuelan managed to score 28 goals in 26 matches this season — and 47 goals in 46 matches over two seasons —  helping him break the league's season record mark with more than two months left to play? He has done so by combining speed, fearlessness and uncanny ability to sniff out scoring chances, all while spearheading one of the best attacks MLS has ever seen.
A native of Caracas, Venezuela, Martinez grew up in a country where baseball is the most popular sport. Fortunately for the 25-year-old, he grew up in a soccer-loving family and while he followed baseball, playing the sport wasn't an option for him.
"My grandfather played (soccer) and my father as well, so that was the sport in our house," Martinez told Goal. "My father was a goalkeeper and when I started to play I wanted to be a goalkeeper, but that didn't last too long."
Martinez was placed in goal for his first youth match, partly because he didn't have a uniform to play in the field, but by his second match had a uniform and found his way into a field position. He would still occasionally play goalkeeper in training, but it wasn't long before he gave up the gloves for good.
Luckily for Atlanta United fans, that foray into goalkeeping didn't last and before long he was honing the skills that would help him develop into a talented forward drawing attention from European scouts. He eventually found new soccer idols to model his game after, with Ronaldo quickly becoming a favorite of a young Martinez during the Brazil legend's playing days at Real Madrid.
"I was a Real Madrid fan and I loved watching him play," Martinez said. "I liked that he was a killer. Not just for the joy he brought to the game and the skills he had, but the fact that he was a killer. If you gave him any room he would punish you. If he got a chance he finished it."
That same description of Ronaldo is how MLS defenders would describe Martinez, the league's most prolific scorer, now . His speed and strength make him a handful for defenders and one of his teammates, Atlanta United captain and long-time MLS veteran Michael Parkhurst, sees some qualities in Martinez that he saw in MLS standouts he played with in the past.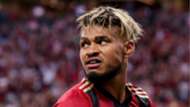 "(Martinez) plays angry and I liken it to Clint Dempsey when he's on the field," Parkhurst told Goal. "He has no fear, goes out there with an attitude, like it's him against the world, and will do whatever it takes to score goals. He doesn't care if he's going to get a broken nose, or if someone's going to kick him in the face. He just does what it takes to put the ball in the goal."
Parkhurst played with Dempsey when the two were both with the New England Revolution, a club that also sported one of the best scorers in MLS history in the form of Taylor Twellman. 
"He's got a little bit of Taylor Twellman, with the attitude of (Dempsey)," Parkhurst said. "Taylor just because Taylor was so explosive as well, and so good in the box. Just a goal scorer in and around the box, knowing where to be, and good in the air, but obviously more dynamic than Taylor used to be.
"He understands where to be. He has that striker's instinct. He has scored what you would deem as maybe some fortunate goals were you think he's just in the right place at the right time. But when that happens over and over, it's not a coincidence."
Martinez showed that fearlessness and nose for goal in the recent MLS All-Star Game, when he dove in face-first to score against Juventus in front of a sold-out Mercedes Benz Stadium. Scoring against the reigning Italian champions had to offer some sense of added enjoyment for a player who struggled during his three seasons in Serie A.
His time with Torino doesn't tell the whole story of the player he is though. Martinez made the jump from Venezuela to Europe at 18, joining Swiss side Young Boys. That same year, he made his national team debut, and began garnering more and more attention. His exploits in Switzerland, including a successful loan stint with FC Thun, led to a $4 million transfer to Torino in 2014.
Martinez scored seven goals in all competitions during his first season in Turin, not enough to become the team's lead striker and not enough to keep Torino from hitting the transfer market the next summer, leading to the 2015 acquisition of Andrea Belotti. Once Belotti took command as Torino's go-to striker, and became a prolific goal-scorer in Serie A, Martinez found playing time much tougher to come by.
That left him open to the idea of a loan to MLS, a league he heard about going back to his younger days in Venezuela, but one he hadn't seen much of.
"The first time they called me I had my doubts because I was in Europe and didn't know much about MLS," Martinez said. "Once I got here I knew it was a good move for me and Atlanta felt like a good place for me."
Atlanta United felt the same way, turning the loan into a permanent transfer just a month into his move. Martinez has repaid that faith by scoring goals at a rate never before seen in MLS.
As for his time in Italy, Martinez bristles at the notion he wasn't good enough to cut it in Serie A.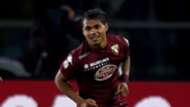 "I don't regret anything. What happened in Italy happened," Martinez said. "I learned a lot and I thank the people who helped me get there.
"People can say what they want about my time in Italy," he went on. "All leagues are different, all teams are different. The Italian league is very defensive. You don't see games finish 5-5, or 5-0. You see a lot of games ending 1-0, or 0-0, and it's nothing against that style, but I think it's too tactical.
"They're different leagues, different styles, and different approaches, but I love it here"
Martinez has clearly benefited from the more wide open style in MLS, where league-wide defending is a weak point. But those flaws shouldn't take away from the track record he has already established and the records he has already broken that much bigger names never could.
The most impressive of those records fell on Friday, when Martinez scored his 28th goal of the season, breaking the record first set by Roy Lassiter in 1996 and equaled twice since then (by Chris Wondolowski, Bradley Wright-Phillips). Martinez tied the record last Sunday, and broke it in his next match. Now, with eight more regular season matches left to play, the question is how many goals can he finish with?
Martinez has already grown weary of talking about the single-season goals record, which isn't a surprise for a player who does his best to keep his goal celebrations muted.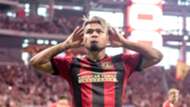 "I don't like talking about the record because I don't want to think about what I've done," Martinez said. "I want to think about the future and about winning with Atlanta. That's what matters to me, that and spending time with my niece and my two dogs."
Martinez has also found happiness in Atlanta, though he is quick to profess his love for Venezuela and the joy he still feels when he visits his native land. Having already endured some tough years in Europe, Martinez has a full appreciation for how good things are for him now with Atlanta United, and while he won't completely rule out a return to Europe one day, he sounds like a player ready to stick around Atlanta for a while.
"I have a lot to give to this team and this city," Martinez said. "Coming to Atlanta was the best thing to happen for me."
It's right up there with that decision his youth coaches in Venezuela made to make him a forward rather than a goalkeeper. As explosive and tenacious and fearless as Martinez may be, a career as a 5-foot-7 goalkeeper wouldn't have worked out nearly as well for him as his career as a record-breaking striker.
"I don't think I could have made it as a goalkeeper, I'm too small," Martinez told Goal. "I think it worked out well. I prefer to shoot at the goal more than protect it."
That much is very obvious these days, and it's MLS goalkeepers and the league's record book that need protecting.