Arsenal
Who is Henry Onyekuru? The prolific Arsenal target who's heading to Everton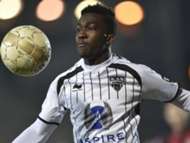 ---
PROFILE
---
Henry Onyekuru was only going to Arsenal, or so it seemed. The Nigerian has been linked with the Gunners constantly throughout the last couple of months but, seemingly out of nowhere, it's Everton who have won the race to sign him.
So who is he?
Arsenal target confirms Everton move
A 20-year-old forward, Onyekuru only won his first cap for Nigeria in a 3-0 friendly win over Togo at the beginning of June but has lit up the Belgian top flight in the 2016-17 season at Eupen, scoring an impressive 24 goals and contributing nine assists in 41 games across all competitions.
You can interpret those numbers either of two ways, based on the standing of the Belgian league and Eupen. He may well be a big fish in a small pond, which might explain the initial reluctance to call him up to the national team; or perhaps it's just a sign that he is capable of the step up to the next level.
With Onyekuru having now confirmed he is on his way to Premier League side Everton, we will certainly find out soon enough. Admittedly, the peculiarities of the English top-flight do lend themselves to his talents: he is rapid from a standing start, boasting superb acceleration, and is unerringly direct.
While he can play all across the front line, he favours the left as it gives him the space he needs to go through the gears, as well as come inside on his stronger right foot. He will usually receive the ball deeper and wider, and try to roar past his marker on the outside, before then cutting across him to get a route to goal. This usually means he can't be stopped without being fouled.
His low centre of gravity (he stands at about 5ft 9in) enables quick changes of direction, but his dribbling style really isn't defined by it, unlike most players his size. He does have good close control, but relies more on his speed and trickery, often looking like he has shown too much to the opponent before snatching it away. Perhaps it is to do with the fact he runs and dribbles with a straight stance, not hunching – he looks bigger than he is, and dribbles like a taller player.
In front of goal, Onyekuru is an improviser. He possesses good movement, especially when he has to spin in behind a full-back; he is often up and away before they even know it. When through on goal, he can finish in a number of ways, though he seems to enjoy taking the ball past the goalkeeper. He's shown he can score all types of goals, be it dinks, curled finishes in the manner of his idol and namesake Thierry Henry, and even pirouettes - he didn't score with that one, but he did win a penalty.
There is a lot to admire about him, but he is still a teenager, so there are a lot of areas where he can improve. That is only natural. His aptitude for the defensive side of the game, as well as his decision-making, are still undeveloped (the latter especially).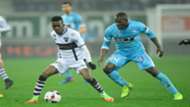 A switch to Everton should be beneficial, and hopefully he'll be granted the type of regular first-team football that he probably wouldn't have got had he moved to Arsenal. Even so, the Premier League can be an unforgiving place and it will be important for Onyekuru to make his mark.
Perhaps the biggest weakness in Onyekuru's game is his single-mindedness. It can manifest as overconfidence or as selfishness, but too frequently he wants to go alone. He will often get the better of his marker but then opt for a shot from an angle rather than lay in a team-mate in a better position centrally.
This selfishness has also been apparent off the pitch when he went on strike in January after claiming that Eupen had broken promises to sell him in the transfer window that month.
Nevertheless, there is plenty for Everton fans to be excited about.
Given his stature and style of play, Onyekuru definitely is not the next Romelu Lukaku. But if he's even half as decisive for Ronald Koeman's side, he'll be a more than useful addition to the Premier League.