African All Stars
Where is Africa's next great goalkeeper?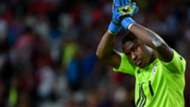 ---
COMMENT    By Solace Chukwu    

Follow on Twitter
---
The conception of the African goalkeeper as, at best, unreliable and, at worst, bumbling is one which has endured stubbornly. In fairness, it is not an easy one to correct; this is a subject which is all the more germane with the World Cup to come in six months—on the global stage, errors do tend to be magnified.
Africa's representatives in Russia, remarkably, almost all have a bit of a question mark in goal going in. The exception, perhaps, is the impressive Munir Mohand, although even he showed there is an error in him on the big stage when he fumbled a routine cross at the Africa Cup of Nations in January. However, he has been impeccable since, keeping clean sheets all through qualifying, and handling crosses, that great bugbear of African goalkeepers, with assertiveness.
The other four nations though have greater headaches. Egypt, on the face of it, look alright: Essam El-Hadary is one of the true African greats, and a veritable legend. The caveat is he is now 45, and his diminished reflexes and waning authority in the box mean that his age is less a novelty and more a concern.
Aymen Mathlouthi also comes with a significant amount of experience, but his roly-poly physique and erratic performances do little to lend security to a Tunisia side who hope to go one better than they managed in 1998 and 2002 and actually win a game.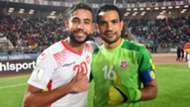 Senegal have perhaps the kindest draw, and while Tony Sylva was one of the standouts in their last World Cup appearance, this time they have the rather less agile Khadim Ndiaye, exuding no confidence whatsoever and slow in his reactions.
Nigeria may have come through the Group of Death unscathed (at least before an administrative brain fart saw them docked three points), but their goalkeeping situation is probably the murkiest of the lot. Three different goalkeepers were used in the series, but there is now a good chance only one will make the final squad – Carl Ikeme is battling leukemia, and in his absence, neither Daniel Akpeyi nor Ikechukwu Ezenwa has convinced overwhelmingly.
An intractable situation is further complicated by the refusal of Vincent Enyeama to come out of retirement for one last World Cup hurrah.
Going through all of these is instructive, in that it reveals the dearth of quality goalkeepers on the continent. These are ostensibly the top five African nations, and represent the best of the best. That they are unconvincing is a microcosm of a wider problem.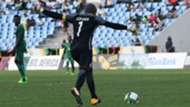 Of course, nations with weak goalkeepers have managed to advance pretty far at World Cups, but seeing as no African side was ranked any higher than Pot 3, the odds are already stacked against them. African sides that have prospered at World Cups have needed to scrape results, as is the preserve of the underdog. This means the margins are way slimmer, and a weakness in goal could prove fatal.
Cameroon had Thomas Nkono in 1990, the aforementioned Sylva was between the sticks in 2002, while Richard Kingson produced heroics for Ghana in South Africa—the moral to the story for African teams is clear: if you want to make it far, get you a good goalkeeper.
The logical question then is, with the pickings so slim on the continent now, when will we be seeing another strong African run at a World Cup?
Perhaps the most impressive option right now is Burkina Faso's Herve Koffi, who impressed at the Africa Cup of Nations and was snapped up by French side Lille.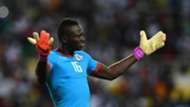 Whether his promise will bloom remains to be seen; he is behind Mike Maignan (and, now Marcelo Bielsa has been cut loose, the returning Enyeama), and Fabrice Ondoa, another bright prospect, shows the danger that can come of getting stuck playing for the reserve sides of teams in major European leagues.
Ajax's Andre Onana has a Europa League runners-up medal from last season, but is weirdly unable to usurp Ondoa for Cameroon, in spite of playing club football at a higher level, the same situation that SPAL's Alfred Gomis finds himself in with the Teranga Lions.
One might say that, in giving us both El-Hadary and Enyeama in the same generation, nature spoilt us somewhat.
If that is so, we are set for a good half-decade of correction, the famine after abundance, this skinny kine swallowing the fat. The evidence would certainly seem to suggest so.