Real Madrid
What's wrong with Marco Asensio? Real Madrid ace still struggling to replace Ronaldo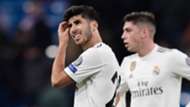 At 22, the best years of Marco Asensio's career lie ahead of him, but the Real Madrid forward should know that they won't just unfold in front of him like an ascending red carpet.
The Spaniard has to take each step forward himself, but this season it seems like Asensio has been struck in the mud or even walking backwards.
As Madrid laboured to a 1-0 win over Rayo Vallecano on Saturday, Asensio didn't take control of the game and even though Los Blancos ended up prevailing thanks to Karim Benzema's solitary strike, their stale attacking could have cost them the three points.
"It is not for me to lead from the front, there are other players that have been at the club for longer, they are more experienced, have a higher status and it is down to them," said Asensio in November, a quote that drew raised eyebrows and perhaps only increased the scrutiny he was trying to escape from.
Failing to score against Rayo Vallecano means that Asensio has blanked in the last 15 Liga games for his club, not finding the net or even registering an assist.
The last time Asensio celebrated a goal was on September 22, in a 1-0 win over Espanyol, back when Julen Lopetegui was in charge.
That was his sole goal this season in all competitions for Madrid, while his only assist came in the 4-1 win at Girona in August.
With Cristiano Ronaldo out of the picture following his move to Juventus in July, the stage was set for Asensio to claim the Portuguese's place in the team.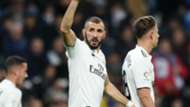 Asensio burst onto the scene in the 2016-17 season and even scored in the Champions League final, with his direct dribbling and willingness to shoot from distance making him an eye-catching talent.
The forward backed that up last season, which he began with two sensational strikes against Barcelona in the Spanish Super Cup, penning a new contract in September 2017.
Perhaps at times it felt easy for him, coming on from the bench and tearing up tired defences, or hitting teams early, still unpredictable shots.
But now he is better known, more established, and has finally been handing the chance he wanted, to start matches for Real Madrid on a regular basis, he is faltering.
Of course, the whole squad is having trouble this season in Ronaldo's absence, but despite his refusal to take responsibility, Asensio is one of those directly to blame for Madrid's struggles.
Against Rayo he was presented with a big chance to double the lead after fantastic work from Luka Modric but fired straight at the goalkeeper.
Later, he showed a glimpse of the magic he has within, with an electric burst forward, although he couldn't get his shot away in the end.
Asensio's night was ended prematurely with a knock, but in the 71 minutes he was on the pitch, he did not make the most of his privileged position. If he is not careful, Vinicius Junior will be knocking at the door for a starting spot.
Asensio was applauded by the Bernabeu on his way off, but the player himself looked downcast. Maybe he knew that this was a night he could have taken the game by the scruff of the neck.
By contrast, Marcos Llorente is a player who is thriving among the weeds at Madrid. Disciplined in midfield, with good passing, Llorente is showing he can take Casemiro's midfield holding role away from him.
And even though they are totally different players, the 23-year-old is showing Asensio the way forward.