Mexico
Mexico vs. Costa Rica: Who will be in El Tri's starting XI for World Cup qualifier?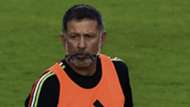 MEXICO CITY — Juan Carlos Osorio would rather have his full squad available, but the master tinkerer doesn't seem too miserable that he'll have to work out a Mexico lineup without some of his regulars.
He spoke Thursday about the confidence he had in his options to replace players who are injured and normally would be in the starting XI, players like Andres Guardado, Jesus "Tecatito" Corona and Hirving Lozano.
Osorio ready to invest in injury replacements
Exactly how he does that is not clear, and the manager himself said he and his coaching staff were yet to decide. Goal takes a look at some of the possibilities for El Tri's starting lineup Friday against Costa Rica...
---
The old reliable
---

Osorio could stick with a familiar lineup in the 4-3-3 formation that has been his standard during his coaching career. Despite speculation about the position, Guillermo Ochoa seems to be set to start in goal. This formation sees Hector Moreno and Nestor Araujo partner up in the center of defense with traditional center back Carlos Salcedo filling the right back spot as he has at Fiorentina.
Raul Jimenez is an option to start to Chicharito's left, but Oribe Peralta enters the contest in good form for Club America and might get the starting nod. And with Andres Guardado out, Rafa Marquez once again could step into the midfield, where the 37-year-old is used to playing with Atlas and lined up in Mexico's most recent qualifier, November's draw against Panama.
---
Countering five at the back with five at the back
---

Costa Rica will line up with three center backs, Ronald Matarrita as a left wingback and likely Cristian Gamboa on the right side. Osorio could counter that look with five at the back of his own. That would require someone, whether it be Salcedo, who has played wingback with Fiorentina (though only briefly) or lightning-fast Tigres winger Jurgen Damm, who has played fullback (though only briefly) to play a position that is not their natural one.
The rest of the back line looks great, though, with Marquez in the middle and Moreno and Araujo where they have excelled with both club and country while Layun's ability getting forward is well served as a winger. Layun showed that with Club America and has continued to shine when given the chance in the role with El Tri.
In the middle, a lineup that can stop attacks and distribute the ball to forwards Chicharito and Carlos Vela is made up of Jonathan dos Santos, Orbelin Pineda and Hector Herrera.
---
Something completely different
---
Juan Carlos Osorio enjoys a good surprise, and while a 3-4-3 isn't unseen, this grouping would be a bit of an eyebrow-raiser. In this permutation, we still have Damm on the right side but playing in a more advanced position than he would were he deployed as a wingback, while Pumas winger Jesus Gallardo could provide a similar amount of speed on the left. Layun goes into the midfield next to Jonathan dos Santos, and we also see Jimenez into the XI in place of Oribe Peralta.
I also think Osorio really enjoys what Jesus Molina provides in the middle as a destroyer, so I wouldn't be surprised to see him work in the Monterrey midfielder. But, while Celso Borges is a threat for Costa Rica getting forward, he wouldn't have as many chances to get forward facing a lineup that looks to get as wide as this one would crossing the center line. That might see Molina used only as a substitute if Mexico is protecting a lead.