Asian Games
What happened the last time Malaysia played South Korea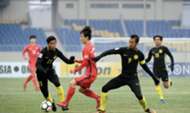 It was a momentous occasion for Malaysia back in January when they reached the quarterfinal stage of the premier Under-23 regional competition in Asia. But South Korea proved to be a stumbling block and just seven months down the road, the two teams will meet again in the 2018 Asian Games.
Group E of the football competition is finely poised with both sides having collected opening day victories against Kyrgyzstan and Bahrain respectively. However, the contrast of both teams from the last time they met couldn't be more stark.
Ong Kim Swee has kept the core of the team together while it has been complete change for Korea. The starting XI that won 3-1 against Kyrgyzstan on Wednesday was only three players shy of the same XI that started in January.
While for South Korea, only one player that started in the 6-0 rout of Bahrain on Wednesday in Kim Moon-hwan, actually started the quarterfinal match against Malaysia.
Back in January, Cho Jae-wan opened the scoring with a stunning volley with the match barely a minute old. Malaysia found themselves back on level pegging through N. Thanabalan's header in the 67th minute. But Korea were not to be denied at the end as Han Seung-gyu found the winner five minutes from the end.
Therefore Ong and his team will not be going into the match with too much knowledge on their opponents bar what was seen from Korea's match against Bahrain. It sets up an exciting clash at 8pm later today that could well go on to decide who Group E's winner is.
Till then, you can relive what happened these two teams last met each other on the pitch.