Transfers
'What can Sh15billion do?' - Kenya reacts to Cristiano Ronaldo transfer to Juventus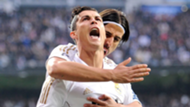 Real Madrid have confirmed that Cristiano Ronaldo will leave the club to join Juventus.
The Serie A champions swooped to sign the Portugal captain after he indicated that he was considering leaving Madrid after their Champions League final win in May.
Ronaldo is said to have agreed a four-year contract that will see him pocket €30 million (£26.5m/$35m) per season and Madrid have since confirmed that they have allowed him to make the move to Turin in a transfer that will cost €100m (£88m/$117m) plus €12m (£10.5/$14m) in additional charges.
Ronaldo, 33, reached global superstar status after becoming the world's most expensive player when he joined Madrid from Manchester United in 2009.
During his nine-year spell at the Santiago Bernabeu, Ronaldo won 15 trophies, including two La Liga titles and two Copa del Rey crowns.
Here is how Kenyans reacted to the shock transfer.
What can sh15billion do in Kenya?

Real Madrid announce Cristiano Ronaldo transfer to Juventus after both clubs agreed Sh15bn deal; to undergo medical next week. #CR7Juve

— Dr Douglas (@OmaribaKE) July 10, 2018
So Ronaldo is going to Juventus and suddenly the serie games are back premiering on supersport mmmmh

— Cannabis passiver (@LeMkareh) July 5, 2018
Situation right now,
as everyone's seems to be more interested in Cristiano Ronaldo's transfer than #FRABEL semi final!!#RealMadrid pic.twitter.com/MjOVgQYxGM

— Khawaja Abaid Ullah (@KhawajaAbaid) July 10, 2018
Now that Cristiano Ronaldo has left Real Madrid for Juventus.....

In case there's a Real Madrid vs Juventus match happen in UCL,

Which team will Barcelona fans support ???😂😂😂#CR7 #LosBlancos #UCL #Transfer #LaLiga #SerieA #Juventus #Juve #RealMadrid pic.twitter.com/KxfnLIm3jD

— Kahang'i Richard (@rkahangi) July 10, 2018
Cristiano Ronaldo is going on another loan to Juventus, he'll be coming back to United in four years.. in my opinion he just needs a bit more experience

— George Kachaje (@GeorgeKachaje) July 10, 2018