Premier League
West Ham boss explains unpopular but rewarding Ayew-Chicharito switch on Monday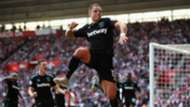 West Ham United manager Slaven Bilic has thrown light on his introduction of Andre Ayew for Javier 'Chicharito' Hernandez in Monday's Premier League win over Huddersfield Town.
The Ghana international had an amazing impact after coming on in the 64th minute, setting up Pedro Obiang's opener and scoring another goal five minutes later in the 2-0 triumph.
Ayew's introduction, however, was definitely not the most welcome decision at London Stadium as fans registered their displeasure during Chicharito's substitution.
"Sometimes you have to take a chance as a manager," Bilic explained.
"Chicharito had a good game, he had a chance and he was running and doing everything for the team but also, on the bench, we had a few players like Ayew and Sakho who are really capable.
"It was after 65 or 70 minutes when I noticed that Chicharito was a little bit getting tired making those longer runs after he had been away in Mexico, so it was a perfect time for Andre to come on.
"It wasn't because Chicharito didn't have a good game, but simply because it was a good time to get fresh legs on the pitch.
"And we are talking about Ayew, who can always scores goals and he scored again tonight."
Monday's win ensures West Ham's first three points of the season ahead of Saturday's trip to West Bromwich Albion.
Ayew, likewise, makes the scoresheet for the first time this campaign, having hit half-a-dozen goals for the Hammers last campaign.