Arsenal
Wenger backed by Labour leader Corbyn as he prepares to sign two-year deal at Arsenal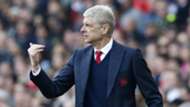 Jeremy Corbyn has taken time out from general election campaigning to offer his support to Arsenal manager Arsene Wenger.
The long-serving Frenchman has faced protests against his reign this season, but Goal has confirmed that a two-year contract extension is to be signed.
That decision may not be universally well received at Emirates Stadium, but the club are favouring stability over transition after a season in which they finished outside of the Premier League's top four.
They may not be heading back to the Champions League, but Arsenal did secure FA Cup glory and Corbyn believes Wenger remains the right man to guide the club forward.
The Labour leader told Copa90: "I get really fed up with these people – Arsenal concede a corner in the first five minutes of a game, and somebody says 'Wenger Out!'. 
"Hang on a minute. It's a corner, it's five minutes into the game, get over it! I'm with Arsene Wenger.
"The league wins, the cup wins. Until this season, the 20 years in the Champions League, I think he's a guy that's brought the club forward to a world status and we should recognise that."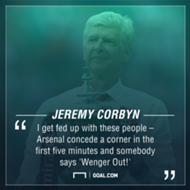 Arsenal fan Corbyn has also been quick to talk up the "human" side to Wenger, with the 67-year-old having always fully committed himself to any job he has taken on.
He added: "Wenger came to the club in 1996, and he wasn't particularly well known – he managed Grampus Eight before. Arsenal recruited him the year before and said 'Will you come and manage Arsenal?'.
"What an amazing opportunity for any manager anywhere in the world, and you know what he said? 'Yes, but I must finish my contract with Grampus Eight first'.
Hartson urges Wenger to spend big
"A few months later, me and my boys and some other kids, I'd taken them to the park and we're going home. We're driving along Highbury Hill and Arsene Wenger is walking to the stadium carrying a box, and so we stopped.
"He put the box down and he just chatted to them about football. This is a man who is human."
With Wenger set to nail down his position in a top job, Corbyn will be hoping to secure one when the public go to the polls on June 8.