U20 Women's World Cup Qualification Africa
We will return with victory from Morocco, assures Falconets' Abdullahi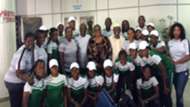 Nigeria U20 women assistant coach Mansur Abdullahi says his side are hoping to claim the maximum points in the first leg, second round clash with Morocco on Sunday.
Having brushed aside Tanzania, the Falconets must subdue the Moroccans in Sale to boost their qualification prospect, and Christopher Danjuma's assistant feels it is possible.
He further indicated that his side had watched their north African opponent and is confident their approach will help them excel at the Stade Boubker Ammar.
"We are expecting a tough game against Morocco, but we have been working hard towards this match," Abdullahi told Goal.
"I can assure Nigerians that we have prepared for them and had a good opportunity to see and analysed video clips of the match against Senegal in Dakar.
"We will not underrate them because they will be playing in front of their fans. We remember they defeated Senegal there. Notwithstanding, we already played few friendlies and planned our game to win.
"We hope to make Nigerians happy, so we are ready to do everything possible to make sure we return with victory from Morocco - that I can assure," he concluded.