NPFL
'We will bounce back' – Chukwuemeka assures after ABS relegation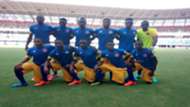 ABS director of football Alloy Chukwuemeka is confident his side will make an instant return to the Nigeria Professional Football League next season.
Seun Sogbesan's brace ended Saraki Boys' one season stay in Nigeria's topflight, having lost 2-1 on the final day against the Solid Miners at the Lafia City Stadium.
Despite the setback, the administrator has taken many positives from the development and began plans to help their Ilorin based outfit to earn a promotion from National League.
"It is sad we got relegated. We have been affected by the usual Nigeria football environmental factors," Chukwuemea told media.
"With our sustainable football management structure, I can assure you that we will bounce back to the NPFL soonest because that is where we belong
"The objective of our proprietor, Dr. Bukola Saraki, for the club was to give young boys lifeline through football.
"We have been able to achieve this. We had three of our victorious NPFL U-15 Promises boys playing in the main team now. Few of the other young players we discovered may also move on to bigger clubs too. 
"The beauty of it is that we have plenty talents in Kwara and Nigeria in general and we will discover more when we start the season."