Azam
We are not ready to lose to Simba, says Cioaba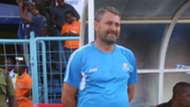 After losing by 2-1 goals against defending champions Yanga two weeks ago, Azam FC Head Coach Aristica Cioaba is not ready to lose to Simba who they are facing on Wednesday.
Azam who currently sit second in the premier league five points behind Simba will see the gap increase to eight points if they lose the game.
Speaking to Goal, the Romanian Coach said their goal this season is to beat all big teams including Simba and Yanga so they can win the Premium league title.
"I know Simba is a great and good team and they are leading the league but we will enter the game with a target to win" Cioaba said.
Azam FC and Simba played a stalemate when they met in the first round at the Azam Complex Stadium but the current fixture is expected to be a tough match with Simba skipper John Bocco who is in good scoring form expected to face his old parent club.