Videos
WATCH: My GOTW - The great volleyed goals in UEFA Champions League history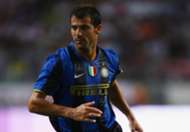 The UEFA Champions League has produced some of the most iconic moments in the game's great history.
And it's certainly seen its fair share of world-class volleys, but which of these two was the best?
Dejan Stankovic gained a reputation for the spectacular over the course of his glittering career, but did he or anyone else ever hit a better volley than his 2011 strike versus Schalke?
Manuel Neuer would go on to carve out a reputation as the best sweeper-keeper in the game, but he was caught out that night at the San Siro when he rushed from his line to head the ball away, only to see it fly straight back over his head.
But was that better than Michael Essien's extraordinary strike versus Barcelona in 2009?
As the ball looped up into the air, few thought the onrushing Essien would hit it first time – let alone with his weaker foot.
Goal have been putting some of the UCL's greatest-ever strikes to some keen observers, asking them to debate which was their Goal of the Week, brought to you by Nissan.
Cheeky Sport Joel and Cheeky Sport Dave got together ahead of Matchday 5 to relieve a couple of remarkable moments from Europe's elite club competition.
Throughout the group stage, we will be discussing what makes a great goal and you can have your say by voting for which of these two you think was the best.
Don't forget you can vote for Goal of the Week from Thursday morning with Nissan!