Nigeria A'
Wapic becomes NFF's official insurance provider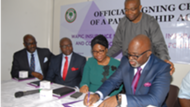 Africa's leading insurance outfit, Wapic, has collaborated with the Nigerian Football Federation (NFF), as official insurer of the Super Eagles ahead of the 2018 Fifa World Cup Russia.
The five-year pact, which has an option of renewal, extends to other national teams to serve as support to the players during their playing careers and lives. Apart from this, Wapic will bring about a wide range of financial, emotional and psychological support to the players.
At the official signing ceremony of the partnership agreement between Wapic Insurance Plc. and Nigeria Football Federation (NFF). #WapicInsureEagles @NGSuperEagles @thenff #mywapic #football #Russia2018WorldCup #WorldCup #Eagles #SuperEagles #WorldCup2018 #WapicInsurance pic.twitter.com/hGyAeqEkRD

— Wapic Insurance Plc. (@mywapic) January 21, 2018
Also, the Amaju Pinnick led board has chosen Senforce Insurance Brokers as the official insurance brokers under the arrangement. Senforce will provide advisory services to NFF on the best insurance packages to acquire and to ensure an effective insurance coverage for the football house.
In her remarks, WAPIC Insurance's Managing Director Mrs. Yinka Adekoya confessed the company's pact with the NFF, owing to the massive role that football plays in nation building and growth.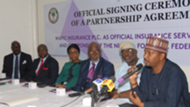 "Mr. Pinnick's administration in NFF has proven to be one with a vision to drive the NFF to the greatest heights attainable, to enable NFF transcend its past glory," she said.
"Wapic too, is driven by a vision to transform and illuminate the insurance industry for the benefit of its customers and other stakeholders. With the Wapic and NFF vision and synergy, you will agree with me that this is an ideal partnership.
"As Nigeria moves towards securing a sustainable future for sports- the games, institutions and players alike, Wapic is proud to play a pivotal role in facilitating these, as sports enjoys a spotlight in Wapic's sustainability and social development programs."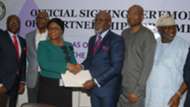 Fueled by the excitement of the collaboration, Pinnick said: "We (NFF) are not just looking for a partner because of money, we want to give our players a life, we want to give them hope and a future.
"We also want to help them invest their money wisely. Encouraging smart investment among players is important to the NFF, and so, together with Wapic, players will be mentored and influenced towards investment so that they have something to fall back on upon retirement".
Furthermore, Wapic will not t only use a composite logo of Wapic & NFF brands, they will also use designations and the NFF logo, images, trademark, clips and footage for merchandising and advertising activities as well as on promotional and marketing materials. Plus, the insurance outfit offer a number of exclusive NFF related benefits to the insuring public.