NPFL
Walbe hails Salefu's set piece prowess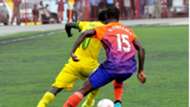 Remo Stars' David Walbe hails Oche Salefu's ability from set piece after he was crowned Nigeria Professional Football League Matchday 22 VAT Wonder Goal winner.
From over 30 yards out, Salefu scored an audacious free kick in the 19th minute in the Sky Blue Stars 2-0 win over Gombe United.
And the effort was nominated alongside strikes from Mohammed Mohammed of ABS and Wikki Tourists' Festus Umanah. But the attacking midfielder won the duo by a huge margin to claim the prize money of 150,000 naira - half of which is to be donated to a charity of choice.
And his team's goalkeeper showered praise on him, while offering an insight into how coach Fatai Osho priotised the art.
"It was well taken and although since the beginning of the season this is not the first freekick that he's scored. He has scored in the past," Walbe told Goal.
"And he has been doing well since before the season started scoring freekicks. With coach Ugbade [Nduka] taking them specially in free kicks and the coming of this new coach [Fatai Osho], he also continued with the practice. But he made it open to them that anything that can bring about goal for the team and they know they are capable of doing it, they should do it.
"And when the chance came we all saw that it's in a good position that he normally scores so everyone encouraged him to take the shot at goal and he did it marvelously well. And everybody's happy."
On whether he would have done better than Gombe United's goalkeeper, Walbe says, "Honestly speaking I will not say that, because everybody has his own style of keeping. Everybody has his own bad day, let me call it that. Because every goal you concede there must be a mistake [that led to it].
"So perhaps he has his own share of mistake from the goal scored, but the freekick is a top notch strike."