Young Africans
Ligi Kuu Wrap: Simba reveal transfer plans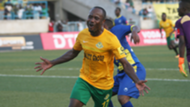 ---
Simba reveal transfer plans
---
Simba head Coach, Joseph Omog has revealed his transfer plans for the January window. Omog plans to strengthen areas that showed weakness since the beginning of the season.
Omega revealed that focus will be put on an attacking midfielder and also a right back to strengthen the defense.
---
Tambwe unhappy with injury layoff
---
Yanga striker Burundian Amissi Tambwe has spoken of his long absence due to injury and revealed his discontent in not being able to help his teammates.
Yanga's medical team under Club Doctor Edward Bavu had released a report this week giving Tambwe the all clear to feature against Mbeya City.
Tambwe hasn't featured for Yanga since the beginning of the season after injury his knee during preparation for the Charity shield match against arch rivals Simba
Yanga is currently third in the League with 17 points after nine matches, with Simba and Azam leading the pack with 19 points.