Transfers
Virgil van Dijk: The Liverpool colossus Mourinho's Man Utd wish they had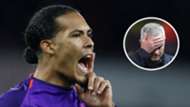 The Manchester United fans that travel to Anfield on Sunday could be forgiven for enviously gazing at the complete defensive package that is Virgil van Dijk.
Liverpool broke the transfer record for a defender to get their man at the start of 2018 but few players have ever had such an immediate impact for the Reds in the Premier League as the £75 million ($94.2m) signing.
United themselves could once boast the pre-eminent centre-halves in the division, from Gary Pallister and Steve Bruce through to Jaap Stam, Rio Ferdinand and Nemanja Vidic. A club steeped in defensive iconography is now reduced to shuffling its pack each week, hoping that Phil Jones won't score an own goal.
Liverpool, meanwhile, have been searching for defensive solidity since Rafael Benitez left the club at the start of the decade.
Brendan Rodgers came close to winning the title in 2013-14 but his Reds side let in 50 goals that season; the last team to win the league conceding 50 or more were Ipswich Town in 1962.
The average number of goals conceded for a title-winning team in the Premier League era is around 32, although this dropped to a paltry 22 between 2005 and 2009 as Jose Mourinho strutted in his pomp and Sir Alex Ferguson extracted elite displays from Ferdinand, Vidic and Edwin van der Sar.
The year 2009 was also the last time Liverpool conceded fewer than 30 goals in a Premier League season, but having let in only six in 16 matches on their way to the fourth-best start to any English season in top-flight history, they are on course to concede just 15 by the end of the current campaign.
That would be one better than their previous best – 16 in 42 games in 1978-79, only four of those at Anfield – but there's still a long way to go.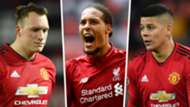 Chelsea had also let in six goals after 16 games in 2004-05 on their way to a Premier League-record 15 conceded, but after leaking two against Arsenal in game 17, they then kept 10 clean sheets in a row.
Conceding less than half a goal a game is a monstrous business that requires concentration levels almost beyond human capability.
What can't be denied is that for Liverpool to even be in with a chance of emulating their heroics from the late 1970s, or Chelsea of the mid-2000s, they need to keep their 2018 expensive defensive upgrades of Van Dijk and Alisson Becker fit.
As the figures below show, Van Dijk currently has a clean-sheet-per-game rate of 0.53, making him the only central defender in Premier League history to record a figure of above 0.50 at a single club (minimum 30 appearances).
| Player | Team | Clean sheets per game | Win% |
| --- | --- | --- | --- |
| Virgil van Dijk | Liverpool | 0.53 | 67% |
| Ricardo Carvalho | Chelsea | 0.47 | 70% |
| Joe Gomez | Liverpool | 0.46 | 59% |
| William Gallas | Chelsea | 0.45 | 64% |
| Tony Adams | Arsenal | 0.45 | 52% |
| Nemanja Vidic | Man Utd | 0.45 | 71% |
Look at the names he is ahead of: Ricardo Carvalho, the robo-legged master of the last-ditch tackle for Mourinho's Chelsea, Van Dijk's recently-injured team-mate Joe Gomez, who, like William Gallas beneath him, is a more than decent full-back.
Then come Tony Adams and Vidic, the sort of brick walls that could repel paint. Between those two alone there's nine English league titles, while Vidic's win percentage of 71 per cent is the best of any Premier League player with more than 200 appearances.
And, on clean sheets, surely the ultimate currency of defending, Van Dijk is ahead of all of them, albeit at an early stage of his Anfield career.
|   | Liverpool 2017-18 in PL before VVD | Liverpool in PL since VVD |
| --- | --- | --- |
| Shots faced per game | 7.91 | 7.48 |
| Shots on target faced pg. | 2.91 | 2.61 |
| Aerial duals won % | 47% | 49% |
| Goals conceded pg. | 1.22 | 0.52 |
Liverpool's key defensive metrics have all improved since Van Dijk joined the club and there's no reason to think that Sunday's game will be dominated by the clubs' attackers – Manchester United haven't scored a Premier League goal at Anfield since March 2015, and Liverpool haven't scored against United at home for nearly three years.
In a fixture that rarely serves up high-scoring matches, the commanding Dutchman will surely have a key role to play if Liverpool are to claim all three points.
And as Mourinho scrambles around trying to find a solution to his side's problems at the back while whining about other teams putting expensive items of furniture in their houses, he clearly wishes that he had his very own Virgil van Dijk, the foundation on which Liverpool's newfound solidity has been built.