Transfers
Vidic endorses Man Utd's £80m Maguire move but calls for defence to improve
Harry Maguire will prove to be a "good signing" for Manchester United but the Red Devils are considered to still be lacking in the defensive department, according to Nemanja Vidic.
Ole Gunnar Solskjaer has been seeking to address those issues, with a record-breaking £80 million ($100m) invested in an England international centre-half.
United have also tied Spanish goalkeeper David de Gea to fresh terms and handed a new long-term contract to Victor Lindelof.
There is also the potential of Aaron Wan-Bissaka at right-back, while left-back Luke Shaw is the club's reigning Player of the Year.
Despite appearing to boast plenty of strength at the back, Vidic believes United still look a little shaky in an important area of the field.
He said when quizzed on Maguire and the impact made by the 26-year-old so far: "I think he's had a pretty good start. Obviously we have big expectations of him, he was a big signing.
"We need the defence to improve, we all know how important the defence is in winning trophies.
"If you want to win trophies, you need to have a strong defence, don't lose many goals. Obviously he's still new.
"He just came, he didn't have a pre-season with the team. I think better games are coming from him and I think he'll be a good signing."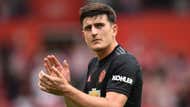 Another United legend, Paul Scholes, shares the opinion that Maguire will show himself to be a shrewd addition.
The former Leicester defender is still finding his feet in new surroundings, but has made a steady start after being thrust straight into Ole Gunnar Solskjaer's starting XI.
Scholes said: "He seems to have sured things up. He's made Lindelof a better player. I think the back four have been a lot better.
"He's been a big signing for them and hopefully he can continue the form he's been on."
United have kept just two clean sheets this season – one on the opening weekend against Chelsea and another in their most recent outing against Leicester.
The hope is that a settled side will become more difficult to break down as the season wears on.
Next up for Maguire and Co is a meeting with Astana on Thursday, with the Red Devils preparing to open their Europa League group stage for 2019-20.