Videos
VIDEO: Messi & Real Madrid stage training ground goalfest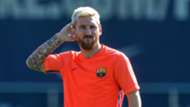 Football fans know that Lionel Messi is a machine, from seeing him in action on the pitch. But does he tone it down in training? Not a chance!
Messi torments Barcelona defenders in training the same manner, leaving them little chance as he runs rings around them.
Barcelona's rivals Real Madrid are also intense when they warm-up for games, and show their skill at shooting from the edge of the area in a new clip.
Watch the Goal social snap above now!