Patrice Evra
VIDEO: Evra dons tiger shirt and sings in Spanish in latest 'I love this game' offering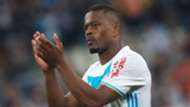 Patrice Evra is at it again!
All the latest transfer rumours
The Marseille full-back has become an internet sensation with his vibrant 'I love this game' offerings on a Monday, and this time he had something special for his Spanish followers.
The 36-year-old, wearing matching tiger shirt and shorts, sings 'I love Latin music' and 'I love chicken' in Spanish as he dances away.
Check out the video posted on Evra's Instagram page above!