Videos
VIDEO: Arsenal legend Gilberto Silva previews Saturday's crunch North London derby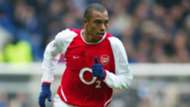 Gilberto Silva is hoping Arsenal can get the better of Tottenham Hotspur in Saturday's crucial derby at the Emirates Stadium.
The Gunners are desperate to get one over their fierce rivals after suffering a defeat to Manchester City in their last Premier League clash as they cannot afford to slip further behind their rivals.
With Tottenham sitting third in the table and eight points behind City, it could prove to be a key game for both sides.
And former Gunners star Gilberto Silva feels the players must overcome the tension if they are to get a good result.
"It's the kind of game that a player wants to play because it's your main rival and on the other hand you don't want to lose," he told Goal in preview of the game. 
"I hope the next game for Arsenal against Tottenham will be a good game and Arsenal do a great job on the field to get three points.
"Everyone knows that it's an important game, it's a hard game to play, you have the main rival and on the other hand you want to win as much as the other team. It's the same.
"They have to keep calm and a strong mentality is important."