Premier League
Victor Wanyama not ruling out Celtic return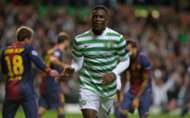 Victor Wanyama is not ruling out a stunning future return to Scottish side Celtic FC.
Wanyama left Scottish champions in 2013 in a £12million move to Southampton before crossing over Tottenham Hotspurs for a reunion with his former boss, Mauricio Pochettino in 2016.
But the Kenyan captain who cut a caltic figure with Celtic fans during his stay in Scotland would like to relive the experience at the Hoops one day.
 "I've still got a lot of love for the club and I still follow the club, so who knows I might be back at the club in the future," Wanyama told Celtic Quick News when asked whether he would like to play for Celtic again.
Though he currently plays in one of the best leagues in the world, Wanyama still believes that the atmosphere at Parkhead come second to none.
"They (Tottenham players) ask me about the atmosphere and I always tell them it is the best ever and that they will never understand it until they witness it themselves.
"It is an unbelievable atmosphere, for me, I have never seen anything like it."
Wanyama also revealed that he still keep tabs on Celtic's results, even ging further to salute Brendan Rodgers' 'Invincible' for their 63-game unbeaten run.
The Harambee Stars midfielder also singled out his famous goal in that incredible night Champions League win against Barcelona while at Celtic.
 "That was the biggest and best game against one of the top teams in the world and we played very well as a unit.
"After I scored in the game I ran towards the fans but when I looked up I thought the stadium was coming down because the movement of the fans celebrating actually scared me!
"That was the best feeling ever!"