Liverpool
'Utter shambles' - Liverpool mayor furious for fans let down by Kiev chaos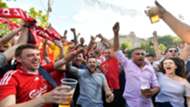 Liverpool's mayor has been unable to resolve an issue that has left hundreds of the city's football fans unable to watch Saturday's Champions League final.
Over 700 Liverpool fans are set to miss out on watching their side take on Real Madrid in Kiev after three flights to Ukraine were cancelled.
One operator, Worldchoice Sports, have two flights grounded - one was cancelled but then reinstated - while Air Partner also cancelled a flight on the eve of the game. It has been reported that they did not have access to a landing slot in Ukraine.
Liverpool have offered refunds to all fans who have been stung by the furore, and Joe Anderson, who had been in contact with the mayor of Kiev, Vitali Klitschko, has now confirmed that, while they "got so close", he and the former heavyweight boxer have been unable to find a solution.
"Hugely disappointed that our efforts to sort #LFC fan flights has not worked @Vitaliy-Klychko & airport directors did all possible with landing slots and planes but not able to get over the line," he wrote on Twitter.
"Frustrated by utter shambles faced by loyal fans. The company has said it can't resolve it, we have to respect that. Gutted we got so close."
A statement from Worldchoice manager Raj Soni deflected any blame, saying:  "We have exhausted all avenues to try to get landing slots.
"We have had them from Liverpool airport and Manchester airport, and we have applied for slots in the correct manner and timeframe with the authorities. To reiterate – this problem IS with Kiev."
UEFA's president, Aleksander Ceferin, has responded to controversy surrounding the location of this year's Champions League final by hinting the final could be played outside of Europe in future.
Asked about the logistics of potentially playing the final in a different continent, such as the north America or Asia, he replied: "It is too early to say anything about that. I mentioned it as a theoretical possibility. For now it is just that and let's see what happens in the future.
"We have to know that the Champions League is a global competition, watched by I think more people outside of Europe than in Europe altogether. So let's see. I can't give you a final answer."