Liverpool
'It was an unforgettable experience' - Malaysia Airlines contest winners after completing Anfield trip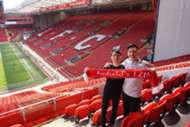 Making an arduous trip from Hong Kong to Liverpool to see your favourite football team in action is akin to a pilgrimage that offers the holy grail at the end of it.
It is an experience that will stay with a football fan forever - watching his favourite team LIVE for the first time ever.
Malaysia Airlines teamed up with Liverpool to send six lucky winners from Hong Kong and their companions/partners from the contest - Rise with Passion - on a ''dream come true trip for any Liverpool fan – a chance to experience Jurgen Klopp's juggernaut at Anfield on the last matchday of the 2018/2019 Premier League season.
Chan Yun Chak and Lai Chun Kwan were two of the lucky group who travelled to the game from Hong Kong and they feel it was an unforgettable experience.
"Thank you Malaysia Airlines and Goal.com for giving us the opportunity to watch Liverpool playing in front of us. We had a great time, made new friends and unforgettable memory after this trip," Kwan mentioned.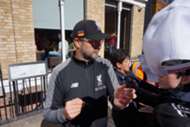 Liverpool have been enjoying a resurgence in recent years and much of that is down to the manager - Jurgen Klopp. The German has been an influential figure and a fan favourite at Anfield. For Kwan, seeing the man up close was the highlight of the trip.
"On the first day, we have been to Hope Street Hotel to meet the players and staff before the game. Jurgen Klopp is really close with the fans and interacts with the fans a lot as we had a chance to take a selfie with him and get his autograph. It drove us crazy that we can see the players and staff closely and we did believe that we could beat Wolves and claim our first ever EPL title."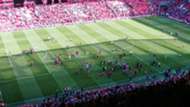 Despite beating Wolves on the final matchday at Anfield, Liverpool would miss out on the Premier League title to Manchester City. However, it was still a brilliant season for Liverpool who lost only one game the entire campaign.
"We headed to Anfield for our last Premier League game of the season. We could hear a lot of chanting before we took our seat in the Main Stand. It felt totally different compared to watching it on TV - everyone was singing and the atmosphere was incredible. We celebrated together for the opening goal from Sadio Mane and the craziest moment was when Brighton scored the opening goal against Manchester City. But we could only scream and share our happiness for a minute as Manchester City bounced back and scored few more goals after that.
"It the end we couldn't win the title even though we won the match, but we have tried our best and gave the greatest effort as we can. Although we are the runner up this year, we still had a lot of wonderful memories after the lap of honour."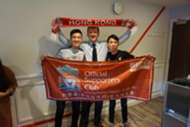 However, despite that heartbreak, the chance to live the Anfield atmosphere and support the Reds was a pinnacle for Chak and Kwan.
"Every time we sang You'll Never Walk Alone were the most touching moment of our life, the echo will be always reminding us to come to Anfield again and support the team altogether."