U17 World Cup
U17 World Cup: Police complaint lodged against top FIFA officials in Guwahati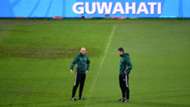 A police complaint has been lodged against FIFA U17 World Cup tournament director Javier Ceppi and All India Football Federation (AIFF) President Praful Patel by an organisation in Guwahati for misleading the people in the city. 
The complaint was filed by Tai Ahom Juva Chatra Parishad, Assam (TAYCPA) at Basistha police station on Wednesday after the FIFA U17 World Cup semifinal between Brazil and England, held on Wednesday, was shifted from Guwahati to Kolkata on account of poor playing conditions at the Indira Gandhi Athletic stadium. 
However, TAYCPA alleged that was not the case and FIFA and AIFF have misled the people of Assam. 
"We, the people of the state, felt insulted and deceived by the attitude of Fifa. The match could have been easily conducted here. We have lodged the complaint seeking proper action against those who are at fault for the mental harassment caused to people of the state," said Dharma Kanta Gogoi, publicity secretary of TAYCPA. 
The conditions at the stadium had come under scrutiny after the quarter-final clash between Ghana and Mali last Saturday, with the Ghanaian coach blasting the soggy outfield and FIFA's decision to carry on with that game amid heavy rain. 
But TAYCPA felt that since the rains had stopped by Monday evening, the semifinal should not have been shifted to Kolkata.