U17 World Cup
U17 World Cup: England coach Steve Cooper hails hat-trick hero Rhian Brewster after Brazil scalp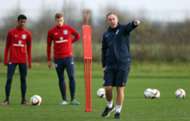 England U17 coach Steve Cooper was delighted with his wards' showing in their 3-1 win over tournament favourites Brazil in the semifinals of the FIFA U17 World Cup at Kolkata on Wednesday. The comprehensive win meant England have now set up a repeat of the 2017 Euro U17 Championship final, with Spain beating Mali in the other semifinal.
"I really believe in my boys. I really think whoever we play against, we can be better than the opposition. We have to work hard for that and it's not easy," Cooper expressed at the post-match press conference. "There were times today where we really had to understand what was needed to be done on the pitch.
"We will never change our style our game, we believe in it. I am really pleased with the boys, the character, the mentality they showed. I am really proud of that."
Liverpool starlet and hat-trick hero Rhian Brewster came in for some special praise from the England manager, with the forward having now scored seven goals in the tournament including two hat-tricks.
"It was an amazing achievement, scoring a hat-trick in the quarterfinal and now in the semi-final. I don't speak about individuals but if you have to do that he gets a special mention. He is a goal scorer and a fantastic player," Cooper gushed.
Having guided England to its first-ever appearance in the final of the U17 World Cup, Cooper shared his elation at the feat. 
"The feeling is just pride and satisfaction. We did it in a way we wanted to do. Really proud of the result and their performance. That was the message for the players," he said.
The England manager also emphasised the need for his side to continue playing in their own way and was pleased with the application they showed against the South Americans.
"The plan first and foremost was to play our way of football. That is how we have played in all the matches. We want to dominate possession.
"if we lose the ball we want the ball back as quickly as we can. That is always our plan. There are many aspects to a good performance. The tactical and technical side, the mentality, the personnel. Overall great show by the boys," Cooper concluded.