U17 World Cup
U17 World Cup: Carlos Amadeu "Everybody expects Brazil to win"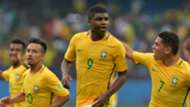 Brazilian coach Carlos Amadeu was happy that his young side had qualified for the quarter-finals of the FIFA U17 World Cup but knew the imposing challenge that they faced next in the form of Germany.
Amadeu talked about his teams approach to the game and how the early goal gave them something to work on for the rest of the game.
 "It was a match where we got an early goal. We had 20 minutes of good football. After this, we went a little bit slow. At the end of the first half, we scored another goal and it gave us some relaxing moments inside the match. The result gave this relaxing moment to us and we could control the possession of the goal. This thing of the rhythm of the match was also because of the temperature and the humidity" 
When asked about the importance of Alan in his squad, the coach highlighted as to how his players play a team game and how each player has a unique role to play. 
"This is teamwork. All the players have their functions. Marking and offensive stuff. The responsibility is mixed with our midfield players. Alan was being marked really hard. It shows us that we need to improve this thing. Today our midfield wasn't really good in their defensive system. We conceded shots from long and medium distance. They had good shooters and got close to scoring" he said.
The Brazilian when asked about their quarter-final tie against Germany said that he didn't want to think about it much and would rather enjoy their victory over Honduras first. 
"I prefer to talk about the Olympic games one month ago when we won the gold medal against Germany. Now is the moment to enjoy. We worked really hard to win this match today. Everybody expects Brazil to win. Our system is to build the match, to play with the ball. Today Honduras were really good, really committed to the game. That's why right now is the moment to enjoy. Tomorrow will be the day to think about recovery and then we will think about the next match."
The coach also talked about how his squad has players who are capable to play in more than one position as and when required.
"When we are thinking about the list to come to the World Cup, we have to think about it. We have to call players that can play more than one position. Marcos Antonio is a midfielder, but he can play as a right back. Players that can make multiple functions. If we lose some players because of cards or injuries, we have players here to replace him.We had these moments of losing focus. Its a challenge for me and my staff to go through with this to the next match. It's a little bit difficult for us" Amadeu said.
The Honduras coach Jose Valladares admitted that his team made mistakes, upon which the Brazilians capitalised but also lauded their effort throughout the tournament. 
"We could have done better today. Brazil are a very strong team. We have played well throughout the competition. We did commit lot of mistakes and Brazil took advantage."
The coach talked about his defence and players in general when asked about the positives and negatives his side would be taking back from the tournament
"It's the almighty's decision that we reached here. We are not giving any excuses. All the players they played here and utilized their maximum potential. Our defence was weak. But there is no excuse, we are going to improve upon that" he said.