Turning possession into points - De Bruyne leading Pep's Premier League charge
Manchester City had dominated all afternoon. And yet the game remained goalless.
Reigning champions Chelsea, in their own backyard, had hardly been given a kick. Antonio Conte's side would record just 38% possession come full-time, their second-lowest in a home Premier League game since 2003-04. 
Chelsea's lowest in the last 13 years arrived in April 2015 they saw just 29.6% versus Manchester United – and yet the Blues won that match 1-0 thanks to Eden Hazard's first-half strike.
Possession is not always king. From his Barcelona side's demolition at the hands of Bayern Munich to the destruction of the Germans by Real Madrid when he was in charge at the Allianz Arena, Pep Guardiola has had to learn that the hard way.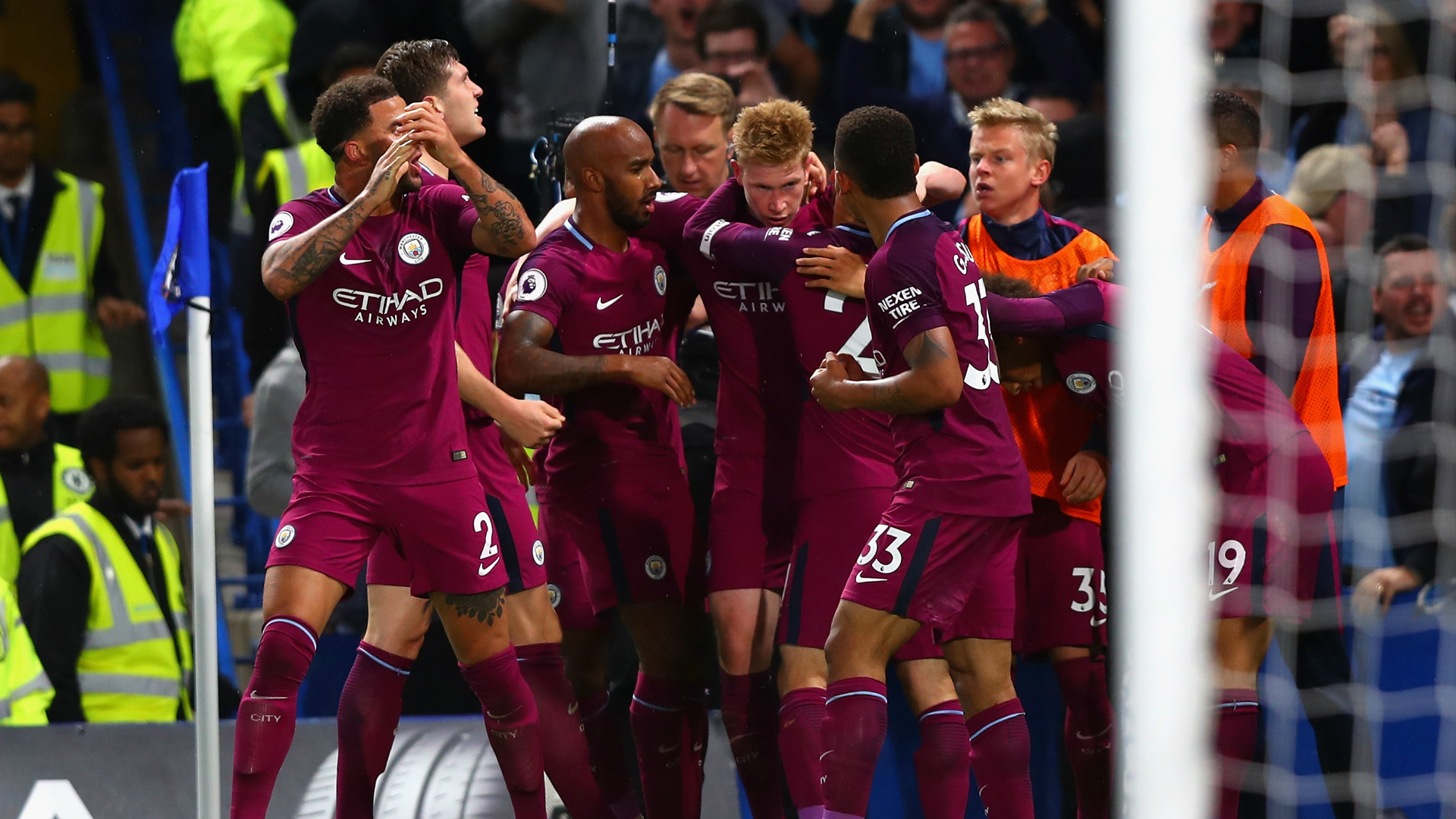 He'd warned his league-leading Man City side of as much, reminding them that "Chelsea are killers on the counter".
That football's a low-scoring game must really irritate Guardiola at times. Having never beaten Chelsea (penalty shoot-outs aside) in eight previous encounters, Pep had been looking to forward to this one.
He's a huge admirer of Conte and was eager to pit his wits against the Italian tactician. Pep won that battle, hands-down, shifting central midfielder Kevin De Bruyne slightly wide-right to link up with Raheem Sterling and completely nullify the attacking threat of Chelsea left-back Marcos Alonso.
Conte couldn't find an answer. His team completely devoid of width, they overrun and outplayed from almost the first-whistle.
And yet with 23 minutes remaining there was still nothing to actually split the sides. Had this been basketball, rugby, handball, hockey… anything but football, City would have been out of sight.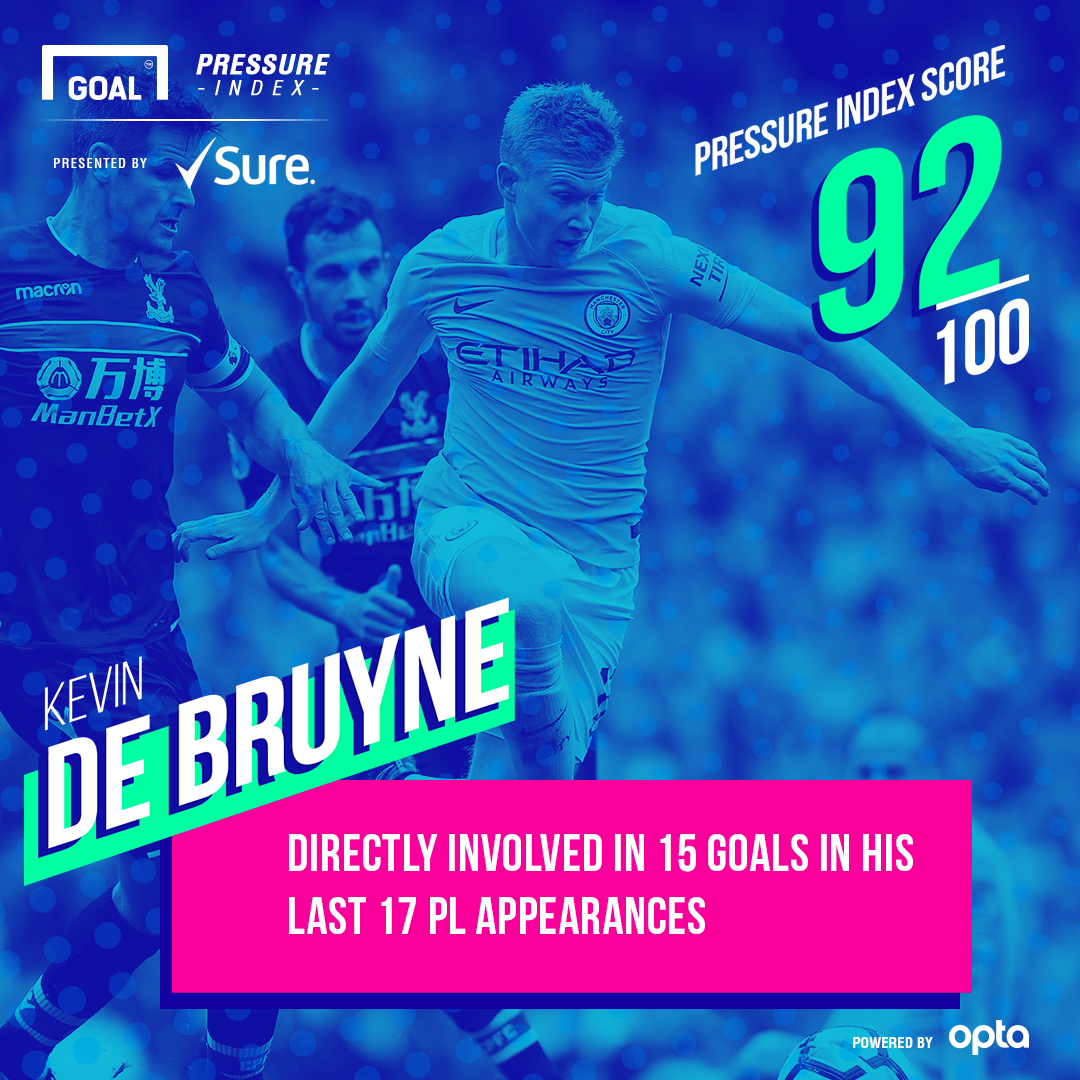 De Bruyne, back at the club who deemed him surplus to requirements in 2014, had been key, and when Pep and City needed someone to unlock a stubborn Chelsea backline, it was the Belgian who stepped up to smash the door down.
Picking up the ball centrally, the Premier League's outstanding player exchanged a quick one-two with Gabriel Jesus before firing an unstoppable drive past a helpless Thibaut Courtois.

De Bruyne has now been directly involved in 15 goals in his last 17 Premier League appearances (3 goals, 12 assists) – and nine of his last 11 in all competitions have been driven home from outside the box.
"He's a complete player," conceded Conte.
"He can do absolutely everything," gushed Pep. "Kevin made [the winner] once again. Once again, he showed us how good he is, that guy, and he won the game."
He also made the game. On Saturday De Bruyne turned complete domination into the one thing even more difficult to achieve in the Premier League: victory.
The Goal Pressure Index is presented by Sure, Official Partner of Chelsea FC, Everton FC and Southampton FC. Join the conversation on Twitter @Sure.