Thomas Tuchel
Tuchel faces audition to prove himself to Arsenal & Barcelona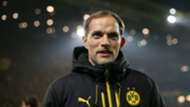 ---
COMMENT
---
Wherever Thomas Tuchel has gone, the shadow of Jurgen Klopp has loomed. After taking over Mainz from Klopp in 2009, the former defender followed up by inheriting the Borussia Dortmund job six years later.
The connection was such that when Klopp was appointed Liverpool manager, Tuchel joked that at least he knew where his next job would be. Although a move to Anfield is currently outside the realms of possibility, a summer move to the Premier League is definitely on the cards for Tuchel.
Liverpool would consider signing Gotze
The 43-year-old has been linked with replacing Arsene Wenger at Arsenal, but a possible appointment at Barcelona has been speculated following Luis Enrique's decision to quit the club at the end of the season.
Tuchel's arrival at either club would be seen as a risky move as he has yet to even win a trophy as a a manager. However, this season's Champions League offers the perfect audition for him to prove himself worthy of a top job.
Like any manager in employment, Tuchel has played down talk of switching to either Arsenal or Barcelona, but heavily praised both teams' attacking mentality.
"The two clubs have the aesthetic to play offensively, so they are a huge inspiration for me and a great influence on my work," he told a press conference. "I rather feel that I'm not at all interested in talking about the two, so I cannot evaluate this speculation."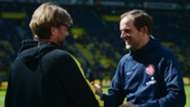 Having guided Mainz to their best ever Bundesliga finish and entry into the Europa League, Tuchel proved himself to be a tactically adept manager, capable of getting the best out of his players. At the time, he revealed that working with underdogs forced him to think outside of the box in training and in games in order to churn out results.
"We didn't want to break rules for the sake of it," Tuchel admitted at a business event. "We had to come up with ideas because we knew were inferior as a team."
Tuchel's Mainz became a difficult team to play against, and after guiding them into the Europa League again with a strong finish in 2014, he decided that he had done as much as he could with the Rhineland club.
The story goes that Tuchel and his Mainz players had climbed a Swiss mountain, and when he reached the top, Tuchel realised that he could go no further - then or in the future with the group of players.
After stepping down, he took a sabbatical from the game - much like Pep Guardiola had done between stints at Barcelona and Bayern Munich. In fact, during Tuchel's time at Mainz, Guardiola had tipped him as his successor at Bayern, telling then technical director Michael Reschke to bring Tuchel to the Allianz Arena.
Reschke told 11 Freunde that Guardiola had said to him: "Thomas has to become my successor at Bayern."
"I had a trusting relationship with Thomas Tuchel, and knew that he admired Pep's work," Reschke said. "Pep, on the other hand, was impressed with Mainz's displays. He often talked to me about Thomas."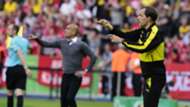 Tuchel did not replace Guardiola at Bayern, instead taking the Borussia Dortmund job a year before the former Spain international left the Bundesliga for Manchester City. But with Luis Enrique leaving Camp Nou, he could follow in Guardiola's footsteps by becoming the Barcelona manager instead.
In his first season at BVB, Tuchel was a tremendous success. After Klopp finished seventh in his final season at the club, there was no Champions League football on offer.
Tuchel took the players to the Europa League quarter-final, but it was in the Bundesliga where his tactical nous really shone. Dortmund finished behind rivals Bayern Munich in the table, but ended the season with 78 points, their second highest ever points total in the league. Were it not for a truly amazing season from the Bavarians, he would have lifted the league trophy in his first season in charge.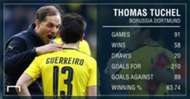 His second season at Signal Iduna Park has proved trickier than the first after the club lost three of its biggest names. Captain Mats Hummels traded Dortmund for Munich, while Ilkay Gundogan and Henrikh Mkhitaryan both moved to Manchester [City and United respectively].
In fact, were it not for Tuchel, Mkhitaryan never would have made his £27 million move to Old Trafford. Under Tuchel, the Armenian attacker scored 23 goals in all competitions - more than the two previous seasons under Klopp combined.
"The coach played a huge part in my comeback," Mkhitaryan told World Soccer. "He spoke to me a lot. He understood what he had to do to make things better for me. To get me to grasp the psychological fundamentals. If I missed a good chance, I used to take it so badly that I wouldn't sleep that night. Now, I've learnt to savour my performances."
Gotze's career is falling apart
Tuchel is a popular figure with the players, but his training style may prove a stumbling block for the huge names at Camp Nou or the pampered players at the Emirates. However, his back-to-basics approach could be exactly what Arsenal need after 20 years of Arsene Wenger, while his ability to get the most out of lesser players than the Barcelona stars should see him push one of the world's greatest teams to even bigger heights.
"For so many years in youth football I was always demanding better facilities, better equipment via which to test the players, better pitches, better travel, under-soil heating," he told the Daily Mail. "Now I'd do almost the opposite if I was starting again. I'd say: 'Let's make it difficult for them'.
"I'd only want one TV for match analysis and ensure that the video attached to it didn't always work; I'd order that the pitches weren't cut often enough so that the grass was too long; no air-conditioning in the changing room; make sure that the driver for the team bus didn't turn up one day so that the kids had to work out how to make it to the game for themselves."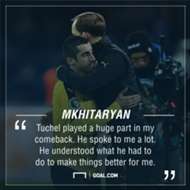 The boards at Arsenal and Barcelona may like Tuchel's ability to nurture young talent, having seen 21-year-old Julian Weigl and teenage trio Ousmane Dembele, Emre Mor and Christian Pulisic all benefit greatly from his tutelage.
After a slow start to the season, these players as well as other youngsters like Raphael Guerreiro and Matthias Ginter have settled into Tuchel's thinking, seeing them climb back up the table. Dortmund now sit in third place, having won five of seven games since the resumption of the Bundesliga after the winter break.
Bundesliga form is one measuring stick, but Wednesday's Champions League clash with Benfica could be the biggest test of Tuchel's ability yet. Trailing 1-0 from the first leg, Dortmund need to turn possession into goals, having enjoyed 69 per cent of the ball and 14 shots to five in Lisbon.
Pierre-Emerick Aubameyang is set for his best season yet thanks to Tuchel's guidance, and is himself attracting interest from European giants. The Gabon forward missed a penalty in the first leg, which would have given Dortmund a deserved draw.
That spurned chance will be long forgotten in the second leg if Tuchel can guide Dortmund to victory and progress to the quarter-final, most likely bettering Arsenal and Barcelona's progress in the Champions League, and proving himself worthy in the process.