Liga MX
Toluca's furious rally keeps Red Devils alive, Leon-Tigres back to square one after draw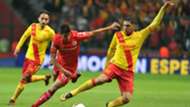 ---
Furious rally saves Toluca's hopes
---
Toluca had to come back. After Raul Ruidiaz converted from the penalty spot to give Morelia an away goal, getting a goal was the top priority for the Red Devils. Morelia allowed fewer goals than all but three teams during the tournament and had the advantage of an away goal.
It wasn't like Toluca wasn't finding chances. Once Morelia had found its goal, Toluca manager Hernan Cristante made modifications both in the way the team played and in personnel in an attempt to turn the tide. Even he wouldn't have thought that his team had not only one goal but two in it during stoppage time. Fernando Uribe scored the equalizer with Pablo Barrientos following shortly after with a deflected goal from a set piece that gives his side the advantage heading into Saturday's deciding match in Morelia. 
#NoTeLoPierdas
G⚽⚽⚽L de Pablo Barrientos@TolucaFC 2-1 @FuerzaMonarca 
IDA #4tosDeFinal #Apertura2017 #LIGABancomerMX
⚽ #SienteTuLiga ⚽ #AbrazadosPorElFutbol pic.twitter.com/zHapKO0OIL

— LIGA Bancomer MX (@LIGABancomerMX) November 23, 2017
There was a bit of luck, but it also was deserved for a Toluca team that had put in the work to get a victory. Doing the same in the second leg against a Morelia team that will be more open than it was in the first leg and still can stretch teams with Ruidiaz and Diego Valdes.
---
Draw brings series of big cats back to square one
---
Leon had chances going forward in Wednesday's first leg of its series with Tigres but couldn't keep Tuca Ferretti's squad from getting an away goal and leaving with a 1-1 draw.
"I think we should think about the next match as though it's 0-0 and look to keep the clean sheet and look for a goal that will give us more calm and move on from there," Ferretti said.
The home side's goal was typical to style, with the team winning the ball back just outside its own box and hitting Tigres on a counter-attack finished off by top scorer Mauro Boselli. Unfortunately for Leon and coach Gustavo Diaz, the club's trademark defense also showed up, allowing Eduardo Vargas to get a look from the top of the box that crept past goalkeeper William Yarbrough.
#NoTeLoPierdas
G⚽⚽⚽L de Mauro Boselli@clubleonfc 1-0 @TigresOficial
IDA #4tosDeFinal #Apertura2017 #LIGABancomerMX
⚽ #SienteTuLiga ⚽ #AbrazadosPorElFutbol pic.twitter.com/houQVwxerB

— LIGA Bancomer MX (@LIGABancomerMX) November 23, 2017
WIth Luis Montes and Hernan Burbano out because of injuries, Leon's attacking depth has suffered. That's why it's even more confusing that the team didn't continue getting the ball to Andres Andrade's feet after his early success getting past Luis "Chaka" Rodriguez or move him to the other wing where in the team's previous meeting his tricks resulted in Jorge Torres Nilo losing his cool and putting in a two-footed tackle to earn a red card.
There was no such fire Wednesday. In fact, the game lacked a lot of the intensity of a typical Liguilla match. Instead of a red-hot contest, the match was played at more of a slow boil. The uncharacteristically high number of empty seats at the Nou Camp didn't help.
Even though the home leg is gone and Tigres is yet to lose in El Volcan this tournament, Leon has to feel thankful it got out of this game level. Sure, the team had other good chances it didn't convert, but Tigres had a strong shout for a penalty when Javier Aquino was brought down in the 38th minute and Andre-Pierre Gignac's shot off the crossbar just after the hour mark goes in more often than not.