Primera División
'They said we wouldn't get along' - Neymar celebrates Messi friendship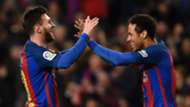 A Brazilian and an Argentine working well together? Who'd have thunk it?
WATCH: Costa causes chaos with a tractor
Cast your mind back to when Neymar, Brazil's next big star, was being touted for a move to Lionel Messi's Barcelona - the headlines were dominated with naysayers claiming it'd never work.
"They're too similar", "they're too different", the club won't be big enough for two giant egos, and so it went.
History, however, has proven otherwise, with Neymar complimenting his South American counterpart with aplomb, and now looks set to take the Argentine's mantle when the time comes to hang up his boots.
In light of the pair's potent partnership, the Brazilian took to Instagram to prod the haters with a big, dirty 'I told you so' post.
"They said it would never work - and the rest is history," he said. 
True love conquers all!