Premier League
'The worst champions ever!' - Do Leicester need to sack Ranieri to survive?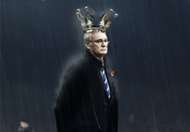 ---
COMMENT
---
­­What Claudio Ranieri was able to achieve at Leicester City during the 2015-16 campaign will likely never be matched in the English game while world football will certainly struggle to produce a better fairytale than the Foxes winning the Premier League title.
Kante took inspiration from Drogba
But, as the dust settles on a new year period during which Ranieri himself picked up almost every management award possible for 2016, the unthinkable is suddenly becoming a realistic possibility. Leicester's current form has them destined for relegation, and sacking 'The Tinkerman' may be the only way to save them.
Though some have compared handing Ranieri his P45 to shooting a puppy, there is no getting away from the fact that this season is turning into a disaster at the King Power Stadium. Following defeat by Burnley on Tuesday, the champions sit just two points above the drop zone in 16th while all the teams around them picked up crucial points in their own battles against relegation.
Only one side have gone onto be relegated the year after winning the English top-flight (Manchester City in 1937-38), but Leicester's current form, as well as the upturn in fortunes of others, has left them looking precariously over the cliff's edge and facing up to a return to Championship football next term.
Despite the sale of N'Golo Kante to Chelsea, this is otherwise the same group of Leicester players that captured the collective hearts of football fans the world over in 2016. Factor in that almost £60 million has been invested into adding to that squad, and the least that was expected was that everyone's new second team would be able to secure a top-half finish before establishing themselves as a side worthy of challenging the super-rich top six again in years to come. Instead they have made the worst start to the season of any defending champions. Given the money spent and the drop in both performances and results, any other manager in Ranieri's position would have been sacked long before now.
The current Leicester team is almost unrecognisable from that which swept all before them last term. Though Ranieri continues to employ the virtues of playing on the counter-attack, the defensive stability that characterised their run-in to the title last spring has completely evaporated.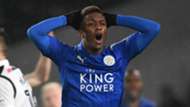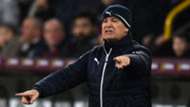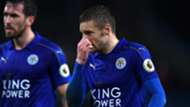 Many put this down to Kante's absence, and it is perhaps only now - as he marches towards his second straight league title - that those outside of the east Midlands are realising just how much of an error it was to not award him at least one of the country's two prestigious 'Player of the Year' prizes back in May.
And though Ranieri can certainly point to the loss of his star midfielder as playing a major role in his side's drop in form, the Italian's failure to find a solution is damning of his management this term. Wes Morgan and Robert Huth have inexplicably kept their places throughout despite being torn apart on an almost weekly basis while Christian Fuchs's talents going forward can only mask his defensive deficiencies so much.
It was telling that, at Turf Moor, Burnley were able to register 24 shots on the Leicester goal despite their own propensity to sit back and hit teams on the break. This was a Premier League record for the Clarets, and serves as yet another example of Leicester's lack of stability through the middle of the pitch that Ranieri has, as yet, been unable to rectify.
Arsenal should be scared of Cesc
He's changed formations to add more bodies into midfield without success, and though his switch back to 4-4-2 against Burnley did bring about more of an attacking threat, Sean Dyche's team were able to sweep through them  on an alarmingly regular basis when in possession. At the other end of the field, Jamie Vardy continues to cut a frustrated figure, with the England international unable to strike up any kind of partnership due to Ranieri's propensity to alter his strike partner on an almost weekly basis.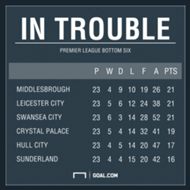 And, while many watching on from afar have questioned the drive of the Leicester players, the rumblings are there from within the Leicester supporters that it is in fact the manager who should be bearing the brunt of the blame.
"Why are talented youngsters Demarai Gray and Ben Chilwell not being given extended runs in the team? Why not try Riyad Mahrez in his preferred central role? Why freeze out proven goalscorer Leandro Ulloa?"
Cameron defends Trump's travel ban
These are all questions that Ranieri is failing to answer, and it is unsurprising that sections of the club's support are beginning to turn on a man who could do almost no wrong 12 months ago. And, if reports are to be believed, it's not just fans who Ranieri is beginning to fall foul of.
Ulloa's outburst on social media following Ranieri's insistence on not selling him during the January transfer window was the first time that the public have become aware of some unrest within the Leicester dressing room, but there are whispers that the Argentine forward is not the only one who is unhappy with how things are being run at the club.
With all respect for LCFC FANS.
I feel betrayed by Ranieri and let down by the club. I will not play again for them...

— Jose Leonardo Ulloa (@Ciclone1923) January 30, 2017
There is a suggestion some senior players no longer respect their manager, and that Ranieri's bubbly personality that most journalists and fans witness does not translate to the training ground. Instead, a more authoritarian figure exists inside the ex-Chelsea boss that is putting many players off his methods and seems to be showing in their performances on the pitch.
Such unrest is not what is required given the Foxes's position in the table, particularly when they face such a key period in their season over the next few weeks. Before the end of March they take on Manchester United, Liverpool and Arsenal as well relegation rivals Swansea City and Hull City while the Champions League – a competition which many blamed for their slow start to the season – returns as they go head-to-head with Sevilla in the last 16. Given recent performances, plus the distraction of European football, there is no reason to suggest that the Foxes will not go into the final two months of the season sitting in the bottom three.
And it may be at that stage that the club's Thai owners will have to seriously consider Ranieri's future. Sunday's clash with United brings Jose Mourinho back to the ground where he managed his final game in charge of Chelsea before being sacked. Victory for the Portuguese's side this weekend, however, may yet begin the process of his opposite number being removed from his post.