Transfers
The story of English football's first £1 million man, Trevor Francis
In an era when footballers are traded between clubs for hundreds of millions, the idea of a £1 million transfer probably doesn't seem that interesting.
But, nearly four decades ago, it was an historic fee and one that Nottingham Forest paid to Birmingham City to secure the talents of Trevor Francis.
The striker became known as England's first £1 million player and his career subsequently took him to a number of different countries.
With the anniversary of Francis' famous transfer coming up, Goal looks back at the story.
---
Trevor Francis: The £1 million transfer
---
Nottingham Forest bought Francis, then 24, from Birmingham City on February 9, 1979 - a mid-season signing. While it was heralded as the first £1m signing, the fee actually exceeded the £1m mark, rising to £1.18m following the addition of taxes.
The transfer naturally caused a stir in the United Kingdom, but it was not a world record, since Giuseppe Savoldi and Paolo Rossi had each been transferred for over two billion Lira - which was equivalent to over £1m - in 1975 and 1976 respectively.
The move came after Francis had enjoyed a number of fruitful seasons with the Blues, in which he scored plenty of goals, earning a place in the Professional Footballers Association (PFA) First Division Team of the Year for two seasons in a row in 1977 and 1978.
When the signing was announced and Francis was unveiled to the media, then Forest manager Brian Clough showed up late to the event wearing a tracksuit and toting a squash racket, a move that has been interpreted as a deliberate attempt to downplay the significance of the moment. Indeed, Clough even circulated a story that the fee wasn't actually £1m at all, but £999,999.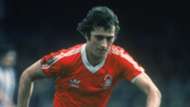 In Nottingham Forest, Francis was joining the reigning English champions who had designs on retaining their title and challenging in Europe. The expectations were high at the club and Francis later admitted that his price-tag weighed heavy on his mind.
"I found myself trying to justify the £1m," he told the Daily Mail in 2009. "You have to be yourself and play your own game. There was a pressure lifted when I got my first goal against Bolton."
However, he went some way towards justifying the historic fee some four months after arriving at the City Ground when he scored the winning goal in the 1979 European Cup final against Malmo in Munich - his European debut for the club.
---
How much would Trevor Francis be worth today?
---
It is difficult, if not impossible, to quantify how much Francis would be worth in modern-day terms, given that the transfer market has exploded in a seemingly exponential curve.
Taking into account inflation, £1m in 1979 would be equal to about £5m in 2018, which is a relatively paltry figure for a player deemed worthy of going down in history. The truth is that Francis' theoretical value could fall into a wide spectrum, with so many factors and considerations at play in modern-day transfers.
Manchester United forked out £29m for Rio Ferdinand in 2002, while Real Madrid paid £24.5m to the Red Devils for David Beckham in 2003 and Wayne Rooney cost £30m in 2004.
Those figures for English players have risen in recent years, with Liverpool paying £35m for Andy Carroll in 2011, while Manchester City paid a combined £137.5m for Raheem Sterling (£49m), John Stones (£47.5m) and Kyle Walker (£50m) in the last three years.
Of course, the records for player transfer fees was obliterated in 2017 when Paris Saint-Germain spent €222m on Neymar, filling Barcelona's coffers sufficiently so that they could sign Ousmane Dembele and Philippe Coutinho for €150m and €160m respectively.
How much would Francis be worth today? It's anybody's guess!
---
Trevor Francis' football career
---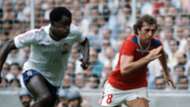 Francis has commented on the fact that he is still widely referred to as "The £1m Man" by media and fans, joking that you would be forgiven for thinking that it was the only thing he did.
"To this day whether it be a luncheon or an evening dinner, I'm always introduced as: 'The £1m man'," he told the Daily Mail. "I played first-team football at 16. I was 39 when I finished at Sheffield Wednesday. That's a long career, longer than most. I had nine years with England winning 52 caps. I played in the World Cup.
"I also played in Italy and Scotland for very big, prestigious clubs. But sometimes you'd think the only thing I did was to be transferred for £1m. And, do you know, I'm quite proud of it."
Indeed, as he said himself, Francis' playing career lasted an amazing 24 years and he won two European Cups. He scored 12 goals in 52 appearances for England and featured at the 1982 World Cup.
His career began at Birmingham City when he burst onto the scene as a 16-year-old with an eye for goal. He spent nine seasons with Birmingham before making the historic move to Nottingham Forest in 1979.
Francis remained at the City Ground for three full seasons, winning two European Cups, before signing for Man City in 1981, but his time there was brief as he moved to Italy to join Sampdoria in 1982. Then 28, he spent four seasons with the Genoa club, helping them to a Coppa Italia triumph in 1985 before moving on to Atalanta in 1986. 
Francis returned to the UK in 1987, linking up with Graeme Souness at Rangers, before moving south to Queens Park Rangers in the spring of 1988. He finished his career at Sheffield Wednesday, winding down his playing days from 1990 to 1994.
Francis briefly served as player-manager at QPR during his time there and was also player-manager of Wednesday from 1991 until 1995, guiding them to the final of the FA Cup and League Cup in 1993. He later had spells at the helm of Birmingham City (1996-2001) and Crystal Palace (2001-2003).
---
Other £1 million players
---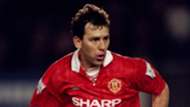 After Nottingham Forest made history by signing Francis in early 1979, the £1m mark was again surpassed on a number of occasions that year.
Manchester City broke the English record in September when they signed Steve Daley from Wolverhampton Wanderers for £1.45m. That same month, Wolves broke the record again when they secured the services of Andy Gray from Aston Villa for £1.5m.
Another player who commanded a fee over the £1m mark during that period was Bryan Robson, who joined Manchester United from West Brom for £1.5m in 1981.
The fees paid by British clubs remained relatively stable until the mid-1990s, but continental European clubs were paying more for players throughout the 1980s.
AC Milan bought Ray Wilkins from Manchester United for £1.5m in 1984, Barcelona bought Mark Hughes from Man United for £2.3m in 1986 and Juventus paid £3.2m to Liverpool for Ian Rush in 1987. Chris Waddle, David Platt and Paul Gascoigne followed, with Marseille, Bari and Lazio all paying big money.