Ajax
The stats prove it - Mourinho's Man Utd knew how to control a stylish but inexperienced Ajax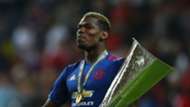 ---
ADVERTORIAL
---
And so it came to pass. Goals from Paul Pogba and Henrikh Mkhitaryan ensured that Manchester United, for the first time in their history, lifted the UEFA Europa League trophy courtesy of a 2-0 win against Ajax.
Riding an emotional wave after the events earlier this week in the city, Jose Mourinho's men turned in a masterclass to quell the threat of a Dutch side who had shown their class in the previous rounds to knock out the likes of Schalke and Lyon.
There was never any danger of Peter Bosz's side upsetting the Old Trafford outfit in Stockholm's Friends Arena, though.
The secret to Man Utd's success was bypassing the Ajax press by going long to Marouane Fellaini and limiting Ajax's ability to get the ball to their front players.
Mourinho's men have not been a side noted for their pressing this season, but in Sweden they pushed notably higher up the field to prevent their opponents getting the ball with any great frequency to Kasper Dolberg.
When Ajax attacked, their threat typically came from the right flank – 43 per cent of their attacks originated from that area – but United were more balanced.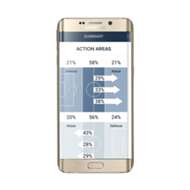 But despite all their possession, the Dutch side actually managed fewer shots on target than the eventual champions, mustering three to their opponents' four.
While these came from good areas, typically towards the middle of the goal, United had packed the centre of the defence, aware of their opponents' limited threat from crosses.
The Red Devils setup forced their opponents to shoot from range. Seventeen times Ajax took aim at goal – 71 per cent of the time from outside the box.
By contrast, the English side were more efficient in the final third.
This was proven in the first half as Pogba struck from the edge of the area. But it was from a corner, one of only two Mourinho's side won during the game, that brought Mkhitaryan's effort soon after the break.
Asked to show some creativity to get back into the contest, Ajax struggled. Though they dominated possession, finishing with a figure of 69 per cent over the course of the match, the young Dutch outfit didn't have the cutting edge to find a way through. 
Manchester United might not have won this trophy with any great pizzazz, but there was no doubt that they were always in control, ending the competition as deserving champions.  
All stats featured in the article came courtesy of the Goal+ app, exclusive to Samsung devices. Download the most cutting edge football app now!