A-League
The Covert Agent: Talay eyes first Wellington Phoenix signing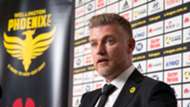 Ufuk Talay is poised to make former Perth Glory defender Walter Scott one of his first signings as Wellington Phoenix coach.
The Covert Agent can reveal the 19-year-old left-back is set for a move to Wellington after being released by Glory, who he represented twice in the A-League.
Though not a high-profile signing, Scott's arrival is set to lay the pattern for Talay's approach to recruitment with the former Sydney FC assistant eager to give young players a chance rather than turning to recycled A-League names. 
Scott, who represented the Young Socceroos in late 2018, was unable to crack into Glory's first team this season having previously made two A-League appearances under Kenny Lowe.
One of many signings set to arrive at the Nix, Talay will have his hands full over the coming months to get his recruitment right with Kiwi keeper Stefan Marinovic looming as another imminent arrival. 
"Football is about recruitment," Talay said at his first Phoenix press conference.
"I think 70 per cent goes to recruitment and the other 30 per cent is motivational side of things and also tactical side of things.
"There's a lot of spots we're looking at at the moment. But we're in no rush to sign players.
"We're not going to jump at every player that is thrown at us. I look at it as a good thing where I can build a team on the way I want to play the game and what the game looks like to me."