Kaizer Chiefs v TS Galaxy
The Big Interview with TS Galaxy boss Tim Sukazi ahead of Nedbank Cup final against Kaizer Chiefs
South Africa Chief Editor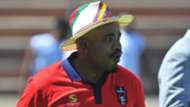 Goal: Mr. Sukazi, thanks for the opportunity to speak to us ahead of the Nedbank Cup final. As the club boss, how do you feel now that TS Galaxy is in the final of the Nedbank Cup? 
Tim Sukazi: Collectively as TS Galaxy, we are quite elated by the team's achievement in the Nedbank Cup but at the same time, we are conscious at the fact that the Nedbank Cup final doesn't end at the final stage. We have to play that final and win it. It's only then that we will be regarded as champions. We do want championship medals as a club. We realize the history that comes with it; we would probably be the first club from the lower ranks worldwide to win a National Cup. So, certainly, we would want to be the ones to break the record from the South African end. To add a cherry on top will be when we win it with our current squad which comprises of South African players only. To us, it speaks to the talent we have in this country. I have always maintained that we've got a reservoir of talent as South Africans. Sometimes, we should appreciate it. There are things that our players are capable of doing, but we don't recognise.
However, we recognise when they are done by other players around the world. For example, you have Sizwe Mlindzo, who scored when we beat Cape Umoya United in the quarterfinals. He took it with a side from range and it was a goal, and many pundits said it was luck… it was a fluke etc, but three weeks later, Luis Suarez (of Barcelona) did the same thing against Liverpool. The ball hit the crossbar and then Messi finished it, and he was applauded. This is just one example. So, I am for South African talent. I think I have illustrated that for many years. So, that will be a record on its own as it is a record that a team comprising of South African players only made it to the Nedbank Cup final. However, that doesn't mean we won't have foreign players in the team; we certainly going to have provided they have what we don't have in this country.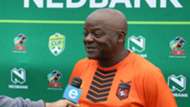 Goal: Would you say the appointment of coach Dan Malesela was crucial in helping the club be where it is today? 
Tim Sukazi: There's no doubt. The appointment of Dan Malesela was important in us having a fantastic run in the Nedbank Cup final. He has played in this Cup up to the semi-finals; one with United FC and the other time with Chippa United. So, he had experience in the Nedbank Cup. There's no doubt that he had so much influence in our run in this competition.
Goal: When you started this journey, did you believe that it would be successful?   
Tim Sukazi: I had no doubt that our club would be sustainable in the league for sure. However, I'd be lying if I would say I had read this kind of a script in so far as our run in the Nedbank Cup is concerned. So, this is one script I never read, to be honest. But as we progressed in this competition, I realized our strength, especially after knocking out Jomo Cosmos at the Makhulong Stadium… in their own backyard. At the time we beat Cosmos, we were on a high… we had just won a league match and they had just eliminated Baroka, who had just won the Telkom Knockout Cup after beating Orlando Pirates. So, they were on a high and we were playing away. After that, I realized that we stood a chance of at least reaching the final. Certainly, we did. And now that we have had a chance to gauge our strength against a very good team in Golden Arrows, I have the belief that we have what it takes to win the final.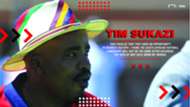 Goal: The majority of SA players grew up supporting Chiefs. I am sure this is the case with some in your team. How motivated and exciting are they to be facing Chiefs in the Nedbank Cup final? 
Tim Sukazi: For every player in this country, playing against Kaizer Chiefs is a motivation on its own. There is no doubt that our camp is highly motivated, and they are looking forward to this game. It's a club that everyone has grown up to know. It's there in our history, but then they realize that they have an opportunity to rewrite history. I think the South African football landscape will not be the same after Saturday, the 18th of May 2019; mark my words.
Goal: Does the possibility of playing in the Caf Confederation Cup excite you as the management? 
Tim Sukazi: The possibility of playing in the Caf Confederation Cup excites us. We are one team that thrives on a challenge – it would be a nice challenge. And again, it would present an opportunity for our people in KwaNdebele to watch a Caf match. These are kind of things we want to achieve. This is the part of the history we want to make. We have been making history up to so far by reaching the Nedbank Cup final – we are less than 10 months old in the professional ranks. That is history on its own. So, we are not going to stop. We want to rewrite the history books.
Goal: Have you set yourselves any targets in terms of promotion to the PSL in the next few years? 
Tim Sukazi: Yeah, we do want to see ourselves in the PSL, but talk is one thing, doing it is another. We realize that it won't be the easiest thing to achieve, but we're up for it. Hopefully, we get it right as I believe we will, especially because an asset such as TS Galaxy for what it has achieved and done within such a short space, I believe it would be good for South African football in any event. Gaining promotion to the PSL will be a top priority after this Nedbank Cup final.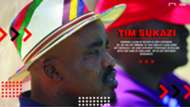 Goal: The majority of club bosses have spoken about how expensive it is to run a professional club. How have you found it so far, especially because you started this journey after years of being a player agent? 
Tim Sukazi: It's quite expensive. Running a club in the NFD is very expensive. So, we are not immune to that kind of a challenge but obviously, we have different strategies in dealing with that kind of challenge. We've got different resources and I am just pleased that we have managed to manoeuvre ourselves right through the season.
Goal: Your players have certainly raised the bar this season, especially in the Nedbank Cup. Has there been interest in their services from any of the PSL? 
Tim Sukazi: We haven't heard from anyone regarding interest in any of our guys. We realize that we're in the NFD, and if a better opportunity comes for any our boys then who are we to stand in front of that opportunity? We certainly won't stop it. If it would progress the player, then so be it. Remember we assembled this team within six weeks. When we got the license or the authorisation to play in the professional ranks, we didn't have any player in our books, and we had six weeks before the start of the season. So, if we managed to do that… So, now we have a team, at least we have got a base of some sort from which we could rebuild our squad if it comes to it. So, we are quite busy. We realize that it's normal that they would be a lot of interest in our guys from the PSL clubs.  
Goal: Finally, how would you sum up your first 10 months in the professional ranks as a club? 
Tim Sukazi: The summary of our season has been a lot of hard work I must be honest. What you have seen, us dominating the numbers and turning it into the biggest team in the NFD doesn't come by fluke. There's a lot of hard work behind the scenes from our marketing team. So, it was very engaging. So, it's been a season of hard work. We become so happy when we see that the product of hard work is here for everyone to see. So, we have packed the stadium consistently for all the games we have managed to play there. Our numbers have been so good. We were competing with the top clubs in the PSL, that again, I think we are quite grateful as TS Galaxy.