Liverpool
'The best goalkeeper in the Premier League' - How life-saver Alisson surpassed De Gea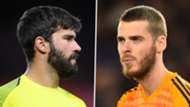 If strikers win matches and defenders win titles, then what can we say about goalkeepers?
Liverpool, top of the Premier League and advancing in Europe, are discovering the value of having a top-class one right now, with Alisson Becker hogging the headlines following the Reds' progression to the Champions League last 16 this week.
Mohamed Salah's goal, and a brilliant one at that, settled Tuesday night's clash with Napoli at Anfield, but without Alisson, Jurgen Klopp's side would be facing the ignominy of a Europa League campaign in the New Year.
The Brazilian's stoppage-time save from Arkadiusz Milik drew gasps at the time, and looks better with each viewing; a Peter Schmeichel-esque spread to block a point-blank effort, at a time when his team needed it most. Expensive goalkeeper, priceless stop.
"Straight at him," snarled the doubters, tapping out their bias across social media. "Striker has to score," mused others, focusing on Milik's misfortune rather than Alisson's excellence.
Meanwhile, the goalkeeping fraternity simply sat and admired.
"What a save!" Chris Kirkland, the former Liverpool and England goalkeeper, tells Goal. "Straight at him?! And why's that? It's because his footwork and his reaction was so good, he was alive to the danger and he got himself into the perfect position.
"That's what top goalkeepers do, and he's a top goalkeeper, trust me."
The praise was effusive afterwards, though a couple of Alisson's team-mates were, with a smile, ready to downplay the significance. "That's what he's a goalkeeper for: to save it!" laughed Gini Wijnaldum. "He was there to do his job," added Virgil van Dijk.
Klopp, meanwhile, was a little more emotive. "If I'd known Alisson was this good," he told Jamie Carragher immediately after the game, "I'd have paid double!"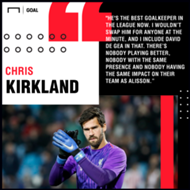 You don't get many bargains for £65 million, but when you consider the impact Alisson has had since his arrival at Anfield in the summer, it is hard to argue with Liverpool's business. Yet again, the work of sporting director Michael Edwards and his team must be applauded.
One statistic, shared widely this week, sums it up. In 2018, Alisson has conceded more goals against Liverpool (seven) than he has against the rest of the Premier League clubs combined (six). It has taken him 16 games to record 10 clean sheets for the Reds; only Pepe Reina (13) has reached that milestone quicker.
You really do get what you pay for, it seems. Like Van Dijk, Alisson is a big-money signing who has taken no time at all to acclimatise.
"He's the best in the league now, for me," says Kirkland, who was invited by John Achterberg, Liverpool's goalkeeping coach, to watch Alisson and co-train at Melwood recently. "Wow!" was his reaction.
"I don't think he let a goal in during the session!" he laughs. "It really was incredible to watch. I wouldn't swap him for anyone at the minute, and I include David De Gea in that."
A pertinent point, given Sunday will see Alisson and De Gea going head to head at Anfield. For so long, Liverpool supporters have looked longingly down the M62 at their fierce rivals, admiring their goalkeeper and his match-winning (or match-saving) contributions. De Gea has been the Premier League's top cat in recent years, at times the sole shining light at an unhappy Old Trafford, but the Spaniard finds himself under threat with the arrival of Alisson.
They are different types of 'keepers, style-wise. De Gea's strengths are his incredible reflexes and his agility, which enable him to make remarkable reaction saves on his goal-line. Alisson deals more in presence and positioning, coming off his line with confidence, as well as taking a big role in helping start Liverpool's attacks from the back.
The stats lay bare his impact; Alisson's save percentage of 86 per cent is the best in the league (De Gea's is down at 68 per cent) while according to Opta's expected goals (xG) model, the average 'keeper would have let in eight more goals than Alisson has in the Premier League and Champions League this season. Put simply, he's winning his side games.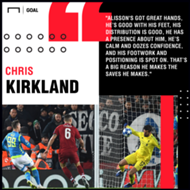 "To be a top goalkeeper, you need everything," Kirkland says. "And Alisson has everything, believe me.
"He's got great hands, he's good with his feet, his distribution is good, he has a presence about him, he's calm and oozes confidence, and his footwork and positioning is spot on. That's a big reason he makes the saves he makes.
"The sign of a top goalkeeper is that you make hard things look easy, and he does that.
"Some of the passes he plays into midfield, people will say they are simple passes. But I'm telling you, it takes some balls to do that, especially when you're 30 yards from goal! It has to be so precise, and the margin for error is so small. It looks easy, but I assure you it's not!
"You wouldn't swap him for anyone in the world right now, definitely not. There's nobody playing better, nobody with the same presence and nobody having the same impact on their team as him, in any team."
It hasn't all been perfect of course – there was the error at Leicester in September, while Red Star Belgrade's second goal in November looked a little too straightforward for many people's liking – but after years of questions over the goalkeeping situation at Anfield, Reds fans can relax for now; they have got themselves a good one, potentially a great one. Potentially, when it comes to major honours, a difference-maker.
"The best thing with a goalkeeper is when you don't talk about the goalkeeper," Klopp said recently. He's right, of course, but even he can't deny the importance of Alisson to his side's ambitions this season.
Better than De Gea? We'll see, but there is no longer any need for Liverpool to cast envious glances towards Old Trafford. They have their own star between the sticks now.