NPFL
Makinwa frustrated by ABS strikers' profligacy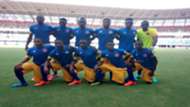 ABS coach Henry Makinwa has expressed disappointment at his strikers' waste of chances after losing 1-0 to Wikki Tourist at the Abubakar Tafawa Balewa Stadium.
 
Going five games without a win for the Saraki Boys, the under-fire gaffer looks frustrated by his forwards' lack of scoring but he is still confident that can escape relegation.
 
"We had about six scoring chances that we could have left this place with three points," Makinwa told Goal.
 
"But when this happen at times, I don't have answers to that. I must say congratulations to Wikki Tourists.
 
"This has been a major problem in our last six games both at home and away. The last game against Rivers, we had 17 chances - one on ones but couldn't make anything out of it.
 
"Everything is open, even the club that is 10th on the log can still go down. One point in three games is a bad outing for us. We can avoid relegation.
 
"I hope we improve in our next game but our finishing is too bad and poor. My job is to make the team create chances and if we do that, and the boys cannot score the goals, then I need to talk to the management if there is anything we can do."
 
ABS are 18th on the log with 36 points from 30 matches and they will face Enugu Rangers in Ilorin on Sunday.