Simba
Tanzania football Wrap: Yanga to face Reha FC without Lwandamina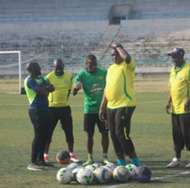 ---
Yanga to face Reha FC without Lwandamina
---
Yanga will start its Federation Cup campaign by facing Reha FC without Head Coach George Lwandamina.
Yanga will start the campaign with Assistant Coach Shadrack Nsajigwa in charge who will be looking to impress the clubs hierarchy.
---
Singida United sign Ghanain defender
---
Singida United has signed Ghanaian defender Malik Antri in a bid to strengthen the squad.
Antri is the eighth player to be signed by Singida United in the current transfer window, those signed include Daniel Lyanga from Fanja in Oman, Kambale Salita 'Papy Kambale' from Etincelles in Rwanda and Lubinda Mundia on loan from Arrows in Zambia.
Others are Issa Makamba, Assad Juma, Ally Ng'azi and Mohamed Abdallah who were part of Tanzania U17 side 'Serengeti Boys'.