AIFF Super Cup
Super Cup 2018: Alexandre Guimaraes talks of patience after edging out Indian Arrows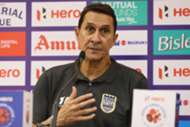 Mumbai City progressed to the Super Cup Round of 16 at the expense of Indian Arrows after defeating them 2-1 at the Kalinga Stadium, in Bhubaneswar on Friday.
Rahul KP got the opener for Indian Arrows which was cancelled out by Achille Emana from the spot in injury time. The game went to extra-time and just at the end of the first-half of extra time, Everton Santos took matters into his own hands to score the winner and propel Mumbai to the next round.
Alexandre Guimaraes, head coach of Mumbai City, was an evidently relieved man as his side had to be patient enough to get the goals even after having a brilliant start to the game.
"We knew it was going to be very difficult. Everybody feels that in this kind of game you can win easy but when you are up against a team with good organisation and a team who are excited to beat their idols, it becomes very difficult. We had to be very patient. We got the goal at last as it was very important for us to get through. Now it is time to give the players some days off so that we can give our all against East Bengal.
"We knew that we will have our chances. We knew we have to keep our cool. They did very well to go up 1-0. We kept our focus and did the necessary modifications and in the extra-time, we did much better," said Guimaraes.
But the Costa Rican refused to comment when questioned about the plight of ISL sides against their I-League counterparts. 
"I cannot say that. My position is to talk about my team and what we did today to win," stated Guimaraes.
On the other hand, Indian Arrows head coach Luis Norton de Matos heaped praise on his boys after they put a fantastic show throughout the 120 minutes against a much superior side.
"Mumbai started better than us. We were prepared to suffer as they had players with experience and quality. But after the initial minutes, we grew in confidence and took the game to Mumbai. Our project has been to fight for results. Of course, we committed some mistakes which are again a part of the process. The players are unhappy but at this age, it is a fantastic performance from them. Four-five months ago, it was unbelievable that they would play so well against an ISL side.
"So, for me, I am disappointed more with the injury of Edu (Edmund Lalrindika) as he has suffered a fracture and will be out for months. Still, don't know whether an operation is necessary," said Matos while informing about the nature of Edmund suffered in the initial stages of the match.
The Portuguese coach was also a bit dejected with the penalty that his team conceded in the dying minutes of regulation time. He has already set his eyes on next season and plans to play a couple of friendlies against quality sides in the pre-season.
"I had a word with Mr Kushal Das (about Indian Arrows). This project must continue with all the players intact. It is in the national interest. It is not only about the Under-20 World Cup but it is about the progress of Indian football for the next 10 years. I am very satisfied because all opponents have come up to us congratulating us for our football. Now, this is up to the management to continue this.
"A lot of progress has taken place in these five months. It makes me happy to watch the transition. Now they have an idea and play sticking to a philosophy, which is important.Yes, they make mistakes, but it is normal. Two or three years down we will have a fantastic generation. Now they must take rest as they are tired. We should arrange some friendlies so that we prepare well for next season," said Matos.
Rahul KP who scored the opener accompanied his coach to the press conference. 
"It is not that I am happy. We got more chances than Mumbai. If I could have scored from my chances we could have won. I need to work hard as I am not up to the mark till now. I know I can do better," signed off Rahul.