KPL
Sumo Insurance remain on course to win Left Foot league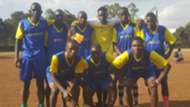 Sumo Insurance Brokers remained on course to win Left Foot Division Two league after they beat Schindler FC 2-0 over the weekend.
The convincing win enabled the Insurance side to move eleven points clear at the top of the table on 39 with two matches remaining to the end of the season. Second placed Davis and Shirtliff Limited have 26 points, though they have three games in hand.
In other matches, Bethel FC lost 1-0 to Best African Cosmetics; Disciples FC drew 1-1 with Saad Advocates while Toyota Kenya beat All Saints FC 3-0.
Amiran Lions registered a comfortable 3-0 win against GreenZone Property in Division One. Madaraka United also won 3-0 against Hurlingham FC; Black Diamond drew 2-2 with Nyayo FC while West Ham United lost 3-2 to Rapid Communications in a five goal thriller.
Cosmos Limited recovered from a goal down to beat Shani Active Gym 2-1 in Division three while in Division Four category, M Kopa Solar won 5-0 against Tropical Heat Limited, KCB beat Harley's Limited 2-0, DGM Kenya won 3-0 against Diamond FC, Nyayo Kingdom Champion lost 3-0 to Advert Eyez Limited, One Africa Logitistic won 2-0 against Toyota Kenya and Seacom FC drew 1-1 with Vitambii Viishe.
Meanwhile, Left Foot Sports have achieved another milestone with the launch of Coast Edition of the Amateur Corporate league that will kick-off on September 16 at Burhani Sports grounds.
According to the league's Operations Director, Amit Bhasin, nine teams will participate. They include Bamburi Cement, Total Kenya Limited, Consolbase Limited, Kenya Bay Beach Hotel, Tradewinds Aviation Services, Kitchen King Limited, Texas Alarms Kenya Limited, APM Terminals Mombasa and One Africa Logistics Limited.