NPFL
Stephen Alfred wants Kwara United to surprise Enugu Rangers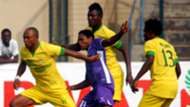 Kwara United striker Stephen Alfred is confident that they will prevent Enugu Rangers from taking the three available points when they face them on Sunday in a topflight tie at the Nnamdi Azikiwe Stadium, Enugu.
The Harmony Warriors are unbeaten in their last three matches since the appointment of new coach, Abubakar Bala and Alfred who has scored seven league goals says the Flying Antelopes won't have it easy against them.
"It will be another tough game for us against Rangers but we won't allow their home record to intimidate us on Sunday in Enugu," Alfred told Goal.
"It won't be an easy match for Rangers either because we want to protect our unbeaten record and also get additional points that will take us away from our present league position. We lost two crucial points against Enyimba on Wednesday and we must reclaim those points immediately so that we don't add to our problems.
"We have been playing very well but our results have not matched our performances and something must be done to ensure that this does not continue with only few games to the end of the first round of the league. I believe we can leave the relegation zone for good before the end of the first round."
The former FC Taraba attacker who is the highest scorer of his team believes that his goals will help lift the Harmony Boys to a more comfortable position in the league table than their present bottom spot with 16 points from 15 games.
"I thank God that I have been able to get seven goals this season and I am eager to get some more to help my team out of the relegation zone. We won't relent until we leave our present position in the league table because it is not our rightful place at all," he further disclosed.