Singapore U16
Singapore U-16's elimination from AFF U-16 Championship highlights Republic's regression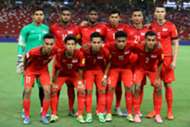 Singapore U-16's elimination from the AFF U-16 Championship without a win serves to further illustrate how Singapore has fallen by the wayside, when compared to our regional rivals.
The fact that we failed to beat minnows and once whipping boys, Laos, highlights Singapore's alarming rate of regression. What exacerbates the situation is how Singaporeans are starting to get used to this narrative of the Lions now struggling with opponents, whom they once considered insignificant.
But the fact of the matter is the more pertinent issue at hand is how our regional rivals have all but surpassed us in the beautiful game. This makes for ugly viewing if one is a proud Singaporean. For a team that boasts four AFF Suzuki Cup titles for its senior side, it simply isn't good enough. Above all such a performance from Singapore's youth provide a bleak future for the national team.
In my chats with colleagues from across the Southeast Asia region, many lamented the fact that Singapore's current crop of players don't match up to the ones in the past. Well most colleagues felt wistful except for my Malaysian counterparts who believe that the Causeway Challenge isn't even a challenge anymore.
Moreover in interviews with local footballers in trying to extract their thoughts on the upcoming AFF Suzuki Cup for the senior side in November, most are grim about the country's chances. Again it wasn't a surprise given the state of local football.
But being Singaporeans no matter how critical we get, we never stop caring. Like a stern father who admonishes his child due to his concern, Singaporeans can be compared to that analogy. We still care even though we express it in unfashionable circumstances, especially online. The hope will be that this care from the public can spread to the right authorities that govern the game. For as long as there is a will there is always a way.