Transfers
Should I stay or should I go? Iniesta still undecided on Barca future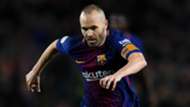 It sounded like the start of a long goodbye. Andres Iniesta revealed after the win against Chelsea on Wednesday night that this might be his last season at Barcelona. It was not what the fans will have wanted to hear.
Barca announced back in October that Iniesta had signed a new "lifetime" deal at the Catalan club and the player was all smiles alongside president Josep Maria Bartomeu as the agreement was announced.
"It's a contract that rewards a special player," Bartomeu said. "Andres forms part of this era, which began in 2003. It is the first lifetime contract the club has signed in 118 years of history."
Nothing is forever, though, and less so in modern football. Nevertheless, the revelation that the player could now leave, just five months after that "lifetime" deal was announced, still comes as something of a surprise.
Asked about his future by beIn Sports straight after the 3-0 win against Chelsea on Wednesday, Iniesta said: "The club will know before you [the media]. I have until April 30 to decide if I stay. I have to evaluate what's [best] for me and for the club."
That will have come as a significant shock to many, yet Iniesta was merely being honest. He has not decided yet whether he will stay or go in the summer, while the terms of his contract mean he has to let them know by the end of next month.
The World Cup-winning midfielder, who will be 34 in May, does not want to be a bit-part player for Barca. If he does decide to stay, it will be because he feels he has a part to play next season. And if he believes he is not needed, he will walk away.
As things stand, he remains as important as ever. Despite doubts over his ability to feature week in, week out these days, Iniesta has already played 32 games for Barca this season – and that includes a starting role in all of the biggest matches.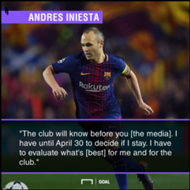 Barca have already signed Philippe Coutinho as a long-term replacement for the La Masia graduate, but coach Ernesto Valverde has shown with his team selections that Iniesta remains a big part of his plans.
Asked recently if the midfielder could move to China, where he has offers to bring in around €35 million per year, Valverde said: "If that happens, we will think about it then. I don't have anything to say. I haven't even thought about it. Iniesta is with us and we want him to help us a lot, as he always does."
In the end, the decision will come down to the player and how he feels at the end of April, by which time Barca should have tied up La Liga and could also have added the Copa del Rey, while they will also hope to still be in the Champions League.
And if Iniesta does decide to move on, what better way to do so than by walking away with a treble as Xavi did in 2015? As romantic as that may sound, however, Barca would rather he stayed for at least one more year...