African All Stars
'She is the greatest gift I have,' Francis Kone dedicates Fifa Fair Play Award to mother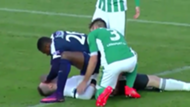 Zbrojovka Brno forward Francis Kone has dedicated his Fair Play Award at the Best Fifa Awards on Monday night to his mother, Akoudji.
The 26-year-old was recognised for his life-saving action in the Czech top-flight for the 2016-17 season.
In a league game between Bohemians 1905 Prague and Slovacko in February, Kone saved opponent Martin Berkovec from swallowing his tongue, an act that was described as heroic.
However, the forward who joined Roman Pivarník's men in June, expressed his gratitude to his mother and dedicated the award to her as his 'greatest gift.'
"I love my mother so much and this trophy belongs to her," Kone told BBCSport.
"She is the greatest gift I have been given in all my life.
"I thank my mother and my family - who are celebrating - and all those people who support me in what I'm doing."