Selangor
Selangor's Maniam to sign only four foreigners for 2018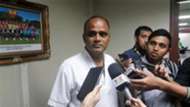 ---
BY        ZULHILMI ZAINAL       Follow on Twitter
---
Selangor head coach Maniam Pachaiappan is looking to sign only four foreign players for the coming season, he revealed to Goal on Thursday.
Although M-League clubs will be allowed to register and field as many as five foreign players beginning in 2018, the trainer remarked that he will continue using four.
In addition to the one Asian and three international player quota, next season Malaysian clubs will get to sign an additional one player with an Asean country passport.
"The management has already made its decision, we want to sign only four foreigners.
"The way discussions are happening at the moment, the make up will probably be two international players, one Asian and one Asean," said Maniam in a telephone conversation.
He also revealed that on top of Spanish striker Rufino Segovia whose contract has been extended for the 2018 season, they are still in discussions to sign three Indonesia-based players; two Indonesians and one Brazilian.
"We can confirm that Rufino has been signed for another season, but the remaining three are still in negotiations.
"The discussions with the rest are still going on, about 60, 70 percent through," he remarked.
When asked about the rumour that the Red Giants will be using the Bukit Jalil National Stadium as their homeground next season, he too responded by saying that the plan looks to be underway.
"I think they (Selangor management) is in talks with the (stadium) management, so far all is good. Nothing is confirmed yet, but they are still in discussions.
"We'll probably be playing there. If you want to know the confirmation date, it's best you ask Datuk Subahan (club president Datuk Seri Subahan Kamal]," he noted.