José Mourinho
Season opener for Manchester United yet another snoozefest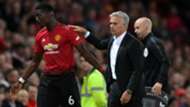 Jose Mourinho claimed in pre-season that he wouldn't pay to watch Manchester United play football. It is unfortunate but I totally agree with him especially after their season opener win against Leicester City.
One of the fans' main ire with Mourinho is his conservative brand of football. Safe to say supporters of the club abhor tactics that provide a snoozefest. Yet at Old Trafford against The Foxes that was what occurred.
While the match started brightly with Paul Pogba scoring a penalty, the narrative of the game was bland and except for a few exciting moments late in the second half, it was yet another snoozefest.
Now this again begs the question if Mourinho is the right man for the club. In the past fans of the Red Devils have been blessed to witness an intrepid style of football under Sir Alex Ferguson. 'Fergie Time' as they would call it, though controversial would provide fans and opposing supporters moments of dramatic ending.
In the game against Leicester, United had 46.3% of possession. Indeed this indicates a side that is comfortable to let their opponents have the ball even if they are playing at home. Such defensiveness is understandable if you come up against a side with real pedigree, say a Bayern Munich or Juventus, but against Leicester, it seems awfully wrong.
Moreover Leicester nearly snatched a point at the death if not for some wayward finishing by Jamie Vardy. United's lack of boldness is simply not good enough for a club who is challenging for honours on multiple fronts. It's history demands it goes out and win every game with conviction not be timid and invite their opponents in.
At the moment it feels as if the fans are being betrayed by this style of football which they unfortunately have become accustomed to.